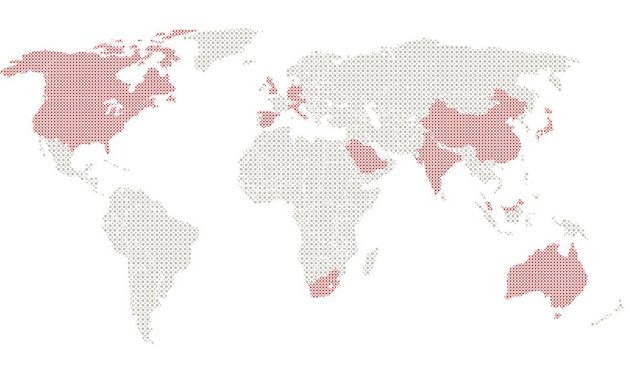 There is particularly strong collaboration with universities in India, Malaysia, China, Germany, Japan and the United States.
Industry
Rio Tinto
CSIRO
Alcoa
BHP Billiton
Reliance Industries Ltd
University collaborations
University of Melbourne, Melbourne
Australian National University, Canberra
Murdoch University, Perth
Monash University, Melbourne
Indian Institute of Chemical Technology, Hyderabad
University of Malaysia, Kuala Lumpur
International Center for Materials Science, Bangalore
University of Missouri, Missouri
Institute of Chemical Technology, Mumbai
National Chemical Laboratory, Pune
Flinders University, Adelaide
India
Indian Institute of Chemical Technology (IICT)
The Centre has a special partnership with the Indian Institute of Chemical Technology (IICT), Hyderabad.
The RMIT-IICT Research Centre was established in 2011 as a joint venture which aims to cultivate and attract the best research talent in India, and export very promising candidates to RMIT University to work directly with RMIT Scientists.
The Centre was designed to promote international research collaborations between India and Australia by expanding Global Research and Industry Alliances, and by promoting skills, innovation, and entrepreneurship through training young Indian students on a global platform.
It provides a focal point for teaching, research and outreach activities with India, and acts as an advocate for RMIT University.
The IICT-RMIT PhD Research Scholarship Program was established through the Centre to provides promising young Indian students the opportunity to undertake a PhD degree with RMIT University.  
The Scholarship holders complete the majority of their studies offshore at their host institute of IICT in India, but will transfer to Melbourne for 12 months at around 2.0 years into their candidature. During their time in Melbourne they work closely with their RMIT supervisors and utilize facilities at RMIT that they may not have access to ain India.
In the past year the IICT-RMIT Joint Research Centre has seen the completion of the second batch of candidates, the transfer of the third batch of candidates to Melbourne, and the commencement of another 14 new candidates in November. This brings the total number of enrolments in the IICT-RMIT program to a 33 candidates.
Centre for Cellular and Molecular Biology (CCMB)
The Centre for Cellular and Molecular Biology (CCMB), Hyderabad India, is a research institute established under the umbrella of the Council of Scientific and Industrial Research (CSIR), and a designated Centre of Excellence for Global Molecular and Cell Biology Network, UNESCO.
Professor Suresh Bhargava is currently in discussions with CCMB about the potential to sign a Collaborative Research Training Agreement for the intake of 15 students over the next three years starting 2017.
This agreement would allow for a similar international PhD research program to the IICT program, whereby students complete 2.5 years at their host institute in India, before transferring onshore to Melbourne for up to 12 months.
Reliance Industries
Reliance Industries (RIL) Ltd is the largest oil refinery in the world, is the second most profitable company in India, and is publicly listed on the stock exchange with a reported a profit of around US$ 4.1 billion in 2015/2016.
A Memorandum of Understanding was signed in November 2016, and negotiations of a Collaborative research agreement for a PhD program are currently underway.
The Collaborative agreement could potentially include a PhD scholarship program based on the IICT program, as well as 3-6 month internship programs for RMIT staff and students, and opportunities to work on collaborative research projects  opening up alliances with one of the biggest companies in the world.
Australia's economy is at the gateway of Asia, the world's fastest growing economic region. By continuing to build linkages with key economies such as India, Australia will be able to improve in research and business performance nationally.
The joint venture will develop a supportive and challenging platform, where researchers from India and Australia can compare knowledge and stimulate collaborative research between both countries.