Foundation Studies enrolment guide
How to enrol
Students must complete two steps to enrol into the Foundation Studies program.
Step 1: Complete the Enrolment Online (EOL) Checklist
Step 2: Email foundationstudies@rmit.edu.au to confirm checklist is complete. Upon receipt of email, staff will provide access to the Microsoft Office Online Enrolment Form for students to select courses. Staff will enrol students based on the courses selected on 12 July 2021 forthe July 2021 intake and 30 August 2021 for the September 2021 intake..
Students cannot select and add Foundation Studies classes through EOL system
Follow these detailed steps to complete the EOL checklist and gain access to the Microsoft Office Online Enrolment Form
1. To make enrolment as easy as possible:
use a desktop or laptop computer
use one of RMIT's preferred browsers for Enrolment Online (e.g. Chrome)
enable pop-ups in your browser settings, or you won't be able to complete your enrolment
2. Go to Enrolment Online.
3. Log in using your RMIT ID and password.
RMIT ID
Your RMIT ID (username) is the letter 's' followed by your student number (excluding any additional letters), eg: s1234567.
Password
New students
Your temporary password is the letter 'p' followed by your date of birth backwards and an exclamation mark (example: p19920428!)
You should change your temporary password as soon as possible to make sure your student account is secure. You can use your new password to access all RMIT systems, including your student email account.
Returning students
Your password is the last password you set while studying at RMIT. We recommend you reset your password if it no longer works or you do not remember that password.
4. Select the Enrol button next to your Foundation Studies program.
Students must have a FULL ACCEPTANCE in Foundation Studies to see this.
If you are unable to see this, contact RMIT Connect for help.
1. Read through the student declaration and responsibilities and click on the checkbox that you agree.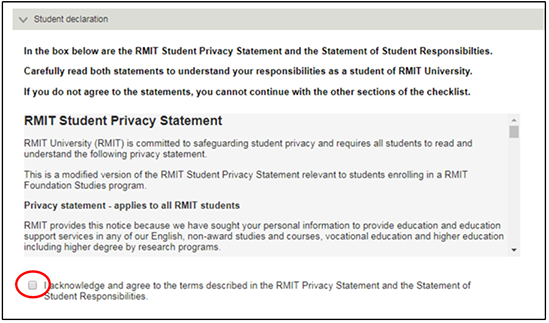 2. Work your way through the Checklist and answer the questions in each of the sections.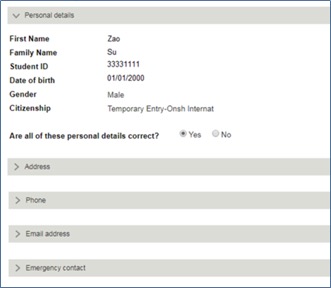 Important: Provide three types of addresses
To enrol you are required to provide three types of address:
Home - this must be an address in your home country
Mailing - this is where you would like any mail sent. Your mailing address must be an Australian address to receive your student card.
Australian residence - if you are in Australia it is a requirement of your student visa that you provide a correct Australian residential address. If you are enrolling before you arrive in Australia and you do not have an address in Australia confirmed, you can use RMIT's street address 124 La Trobe Street Melbourne VIC 3000. It is a requirement of your student visa that you update this address within 7 days of arriving in Australia, and within 7 days of any change.
Preferred name: At RMIT we recognise that some students may choose to use a name that affirms their gender. Although some University processes may require you to use the name on your legal documentation, we can support you to ensure that you're addressed by the correct pronouns and name while studying at RMIT. Please contact a Diversity and Inclusion Advisor at inclusion@rmit.edu.au for advice.
If you need help, contact RMIT Connect.
Email foundationstudies@rmit.edu.au to advise you've completed the checklist. Foundation Studies staff will send you to a Microsoft Office Enrolment Online Form for course selection.

The Foundation Studies team will enrol you into the selected courses on 12 July 2021 for the July 2021 intake and 30 August 2021 for the September 2021 intake.
Course and program advice
For academic advice and information about your program and courses, contact your college via RMIT Connect.
Technical issues
If you have technical problems with Enrolment Online or password queries, contact the IT Service and Support Centre.

Enrolment queries
If you have any questions about the enrolment process, contact RMIT Connect.