Foundation Studies enrolment guide
As a Foundation Studies student you need to complete a few steps before you attend your face-to-face enrolment session. Once you have completed this, enrolment will be easy on the day.
1. To make enrolment as easy as possible:
use a desktop or laptop computer
use one of RMIT's preferred browsers for Enrolment Online e.g. Chrome
enable pop-ups in your browser settings, or you won't be able to complete your enrolment.
2. Go to Enrolment Online.
3. Log in using your RMIT ID and password.
4. Select the Enrol button next to your Foundation Studies program.
If you are unable to see this, contact RMIT Connect for help.
1. Click on the Begin my Checklist button: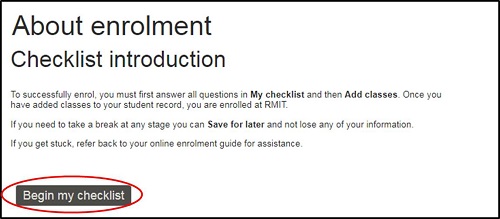 2. Read through the student declaration and responsibilities and click on the checkbox that you understand. Click on the I agree button: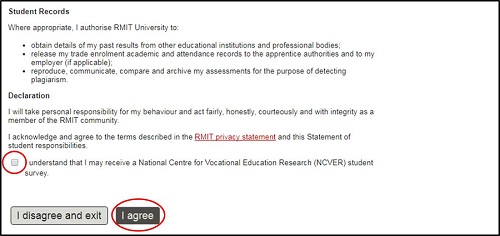 3. Work your way through the Checklist and answer all of the questions.
If you need help, contact RMIT Connect.
4. For the last question, create a Unique Student Identifier (USI).