Certificate III in Individual Support (Ageing) - CHC33015
Assist older people with their day to day activities and health and wellbeing.
Quick facts
Student type:
Local
Student type:
Quick facts
Duration

Part-time 1 year

Location

Melbourne City

Fees

Next intake

February

Duration

Not applicable

Location

Not applicable

Fees

Next intake

Not applicable
Domestic
Sorry, this program is not available for local students.
Please contact us for more information.
Sorry, this program is not available for international students intending to study on a student visa.
If you hold a different visa type, you may be eligible. Please contact us for more information.
The number of Australians aged 65 and over is projected to more than double by 2054-55.1 To respond to this record growth, and to ensure that future generations receive the care they need as they grow older, we need to build a skilled and experienced aged care workforce.
Individual support workers play a vital role in helping to meet the needs of our ageing population. They are empathetic, patient and detail-oriented carers who assist in promoting the wellbeing and independence of older people.
The Certificate III in Individual Support (Ageing) is an industry-based course teaching the theory, skills and practices required to begin a rewarding career in the aged care sector. This course reflects the role of a support worker in a residential setting who follows individualised care plans to assist older people. These plans outline their strengths, difficulties, goals and service preferences, ensuring they receive individualised care.
This is the only industry-based training course for the Individual Support qualification. It embeds students into an organisation from day one, increasing employability outcomes.
Some of the unique aspects of the RMIT Certificate III in Individual Support (Ageing) are:
extensive work placement component to ensure graduates are work ready at a residential aged care facility
two full days a week in a residential care home with one of our providers
increased employment outcomes due to longer placement hours
RMIT instructor supported online learning, allowing students to fit study around work and family commitments
all practical assessments are conducted by the RMIT Facilitator during placement hours.
1. According to the Federal Government's 2015 Intergenerational Report
*This is a free TAFE priority course. Check your eligibility.
It was incredible to see how valued the skills we learned in the course were. They're so good, a lot of my classmates were getting job offers straight off the back of getting a Certificate III.
Elizabeth Jones, RMIT Certificate III of Individual Support graduate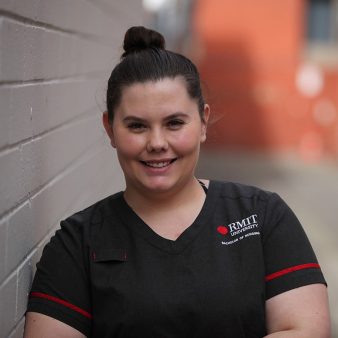 All certificate III in Individual Support course require a minimum of 120 hours spent in placement to qualify for the award. Upon completion of this course, you will graduate having spent over 500 hours in an aged care facility.

In addition to this industry-based learning, you will spend up to eight hours a week engaged in online learning, building your capability and knowledge through interactive activities. Through online learning modules, you will develop a basic understanding of human anatomy and physiology, learn to use current health terminology to communicate with healthcare professionals, as well as how to promote physical and mental health in older people.
Your teacher will support you throughout your online learning and will facilitate collaborative group discussions with your peers.
The emphasis for assessment will be on demonstration of skills, the application of knowledge in a workplace context and how you integrate these skills in preparation for the contingencies and demands of a busy workplace.
The Certificate III in Individual Support (Ageing) has been developed with significant Industry input. All course content, delivery and assessment is informed by industry through a Program Advisory Committee.
This is a nationally accredited program enabling graduates to work anywhere in Australia.

A large number of our students are offered employment through their placement provider upon completion of their studies. Previous placement providers include BlueCross and Sapphire Care.

This qualification requires the completion of 13 units - 7 core units and 6 elective units.
Your core areas of study will focus on safe, ethical and inclusive work practices. You will develop an understanding of healthy body systems and learn how to support and maintain the well-being of those in your care.
The ageing specialisation in this program introduces you to the specific needs of older people. It teaches you how to provide empathetic support for those living with conditions such as dementia and provides you with the knowledge required to work respectfully with people from diverse social and cultural groups.
In addition to developing skills to effectively work in roles that involve service delivery and client work, this program aims to help you develop broad employability skills such as effective communication, self-management and teamwork.
Choose a program structure
Program code: C3401
National curriculum code: CHC33015
Title
Location
Duration
Plan code
CRICOS
Certificate III in Individual Support (Ageing)
City Campus

1 year

C3401
Choose a program structure
Program code: C3401
National curriculum code: CHC33015
Certificate III in Individual Support (Ageing)
Healthcare and social assistance are currently Australia's largest employing industries, and the fast-growing aged care sector offers a wealth of employment opportunities.
The Department of Health estimates that the Aged Care sector will need to expand its workforce from 366,000 to 980,000 by 2050 to meet the needs of our ageing population.

The Certificate III in Individual Support (Ageing) prepares you for employment in roles such as:

Aged care worker
Personal care assistant
Home care worker
Family support worker
Accommodation support worker
To apply you will need to submit the following:
Current resume
A cover letter detailing why you are interested in this program
Two professional referees with email addresses (if you have worked in the health care sector please include references from this workplace)
Entry requirements
There are no minimum requirements.

You are now viewing content in a pop-up style. Click escape to return to the page
Close
/