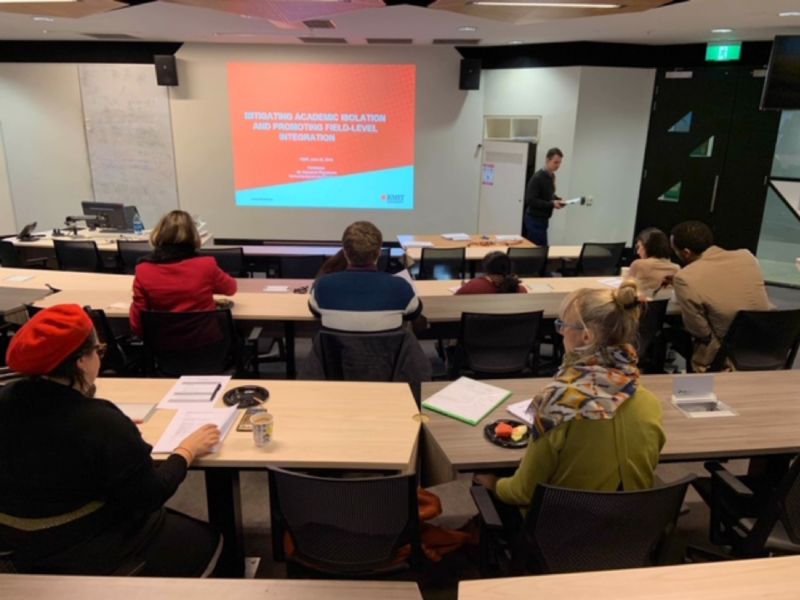 Project lead: Dr. Bernardo Figueiredo, School of Economics, Finance and Marketing
Project Summary
This workshop was intended to support the Early Career Researchers to become more integrated within their academic field, developing strategies to increase their integration with the field via agency-enhancing mechanisms (autonomy, resource building, socio-cultural bonds, translation and visibility). The aim is to use this knowledge on academic isolation to help ECRs establish better research networks with clear practical implications, innovation potential, and strategic intent. It will help to grow their internal capabilities by addressing specific integration obstacles to forming field-level networks.
The first workshop was held on 25 June 2019 and was followed by three additional introductory workshops in the period 13-16 August 2019 to provide additional opportunities for ECRs to engage. Various activities were undertaken with the ECRs during the workshops and the time was enough for a good discussion around the actionable solutions properly. Participants left the workshop with a raised awareness about the issues.
Project outcomes
Action has confirmed that the academic isolation (and lack of integration) seems to deeply affect some of our staff and it is widespread.
Action provides valuable feedback on how our researchers are experiencing academic isolation and how it may impact their integration in the field. 
ECRS do have problems of integration and isolation but they perceive themselves as having even more pressing problems such as the high teaching/research ration, the lack of access to good mentors, the lack of clear publications expectations from the different schools, the lack of resources and the lack of time to engage with research. 
ECRs have not yet reached the level when there are preoccupied with integrating in the field. Their mission is more basic: to survive and do whatever is needed to please their immediate managers and meet their job requirements.