RMIT Sports Centre Facilities
RMIT Sports Centre Facilities
RMIT is committed to being a recognised leading provider of quality sport and recreation facilities and services. The continued development of the RMIT Sports Precinct is part of the University's commitment to develop sport and active recreation into recognised, core components of the student experience.

RMIT University understands the value that quality sporting infrastructure provides to:

- The physical education and exercise and sports science curriculum
- The RMIT University sports and sports clubs program
- The individual health, fitness and sporting needs and interests of students and staff
- Providing an exciting vibrant regional sporting hub for all of the community to enjoy

It's all about a continued commitment to provide students and the community, access to an extensive range of quality indoor and outdoor sports and recreation programs and facilities.

At RMIT Sports Centre you will find everything you need to help you achieve your individual goals. Whether your goal is to get fit, lose weight, or improve your health and wellbeing our friendly staff are here to provide you with all of the expert guidance and support you need to achieve the results you want.
Our huge range of quality health, fitness and sporting facilities includes:
Health Club: State of the art cardio equipment, pin loaded equipment, strength stations and free weights area.
Group Fitness Program: Motivating and inspiring instructors, energetic music and a wide range of classes to suit all ages and abilities.

Tennis Courts: Four new competition standard tennis courts with Plexicushion surface (Blue Acrylic Hard Courts). Official / umpire chairs on each court, separation netting and night competition standard LED lighting.
Indoor Highball Stadium Court Facilities: Four indoor multi-use sports courts for netball, basketball, badminton, volleyball, futsal and more.
Cycling Studio: Dedicated, fully equipped indoor cycling studio with over 30 award winning Keiser M3 indoor cycles to help you experience the ultimate group ride.
Squash Courts: Three modern, well lit and ventilated squash courts for competition or casual play.
Football/Sports Oval: Etihad Stadium sized AFL oval with night competition standard lighting and player/umpire exchange boxes.
Soccer Pitch: Synthetic turf FIFA-grade soccer pitch.
Hockey Field: Synthetic turf full sized hockey pitch.

Three Futsal Pitches: Three outdoor synthetic futsal pitches with night competition standard lighting
Athletics Track: A four lane, 400 metre athletics track with synthetic turf infield and jumping and throwing zones for training or competition.

Meeting & Lecture Rooms: State of the art seminar/conference/lecture rooms of all sizes for team meetings, presentations, video game analyses, learning and teaching etc.
Please Note: RMIT Sports Precinct is a privately operated facility and all/any organised activity will require a facility booking.

To find out more about our facilities including how you can become a member, book a sports court, field or room, please call the Centre today on 9925 7999 or email us at programs@rmit.edu.au.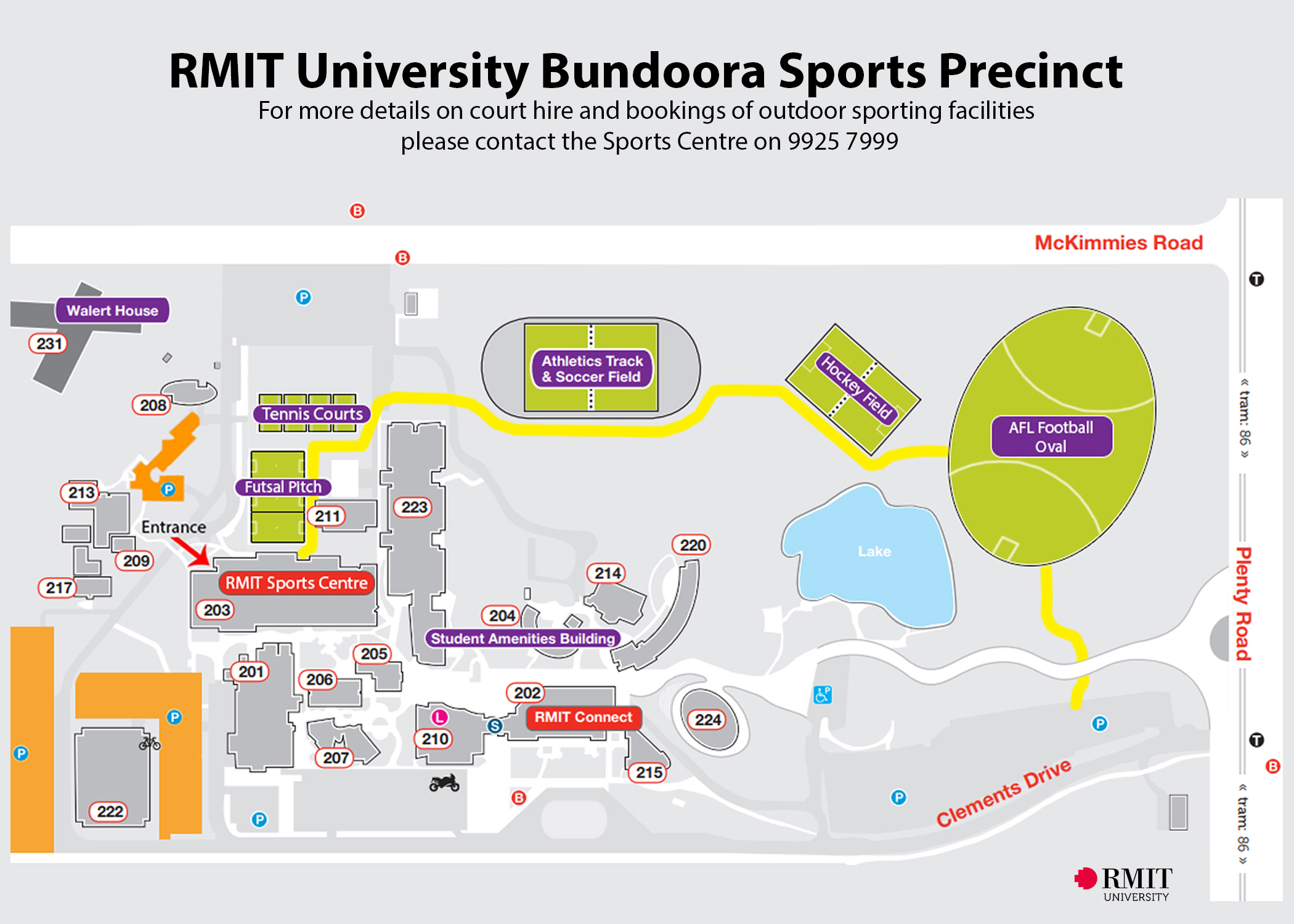 Phone: 9925 7999

Email:
Enquire about a health club membership: sportscentre@rmit.edu.au
Book a room or court: programs@rmit.edu.au
Location:
RMIT University, Building 203, McKimmies Road, Bundoora.
Opening hours:
Monday to Friday: 6.30am – 10pm
Saturday and Sunday: 8am – 6pm
Find us on Facebook: RMIT Sports Centre

RMIT Sports Centre
Building 203, McKimmies Rd, Bundoora VIC 3083