Graduation
It's time to celebrate! Find out all about RMIT Graduation: how to apply, the ceremonies you can attend and the different academic statements available.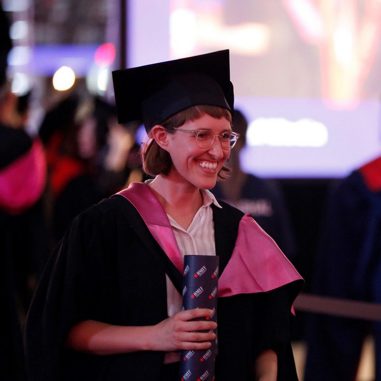 2021 Melbourne Graduation Ceremony
Confirm your attendance by Friday 29 October
We're delighted to advise that, as a result of the Victorian Government's easing of COVID-19 restrictions, the Melbourne Graduation Ceremony is planned to go ahead on Tuesday 14 and/or Wednesday 15 December 2021.
To attend, please confirm your attendance and pay the ceremony fee by 29 October 2021. Instructions have been sent to your personal email address.
COVIDSafe restrictions
There are currently strict COVID-19 restrictions in place. In light of recent Victorian Government announcements, we are currently working through what the graduation ceremony will look like. We'll be updating our Frequently Asked Questions regularly with new information as it becomes available.
Graduation options
Graduation is different in 2021. Find out what this means for you, including how and where you'll graduate.
Academic statements
Find out when and how you'll get your Testamur/VE Qualification Statement and other academic statements.
Mementos for your milestone!
Photography
Get your professional graduation portrait taken with Reed.
Framing and plaques
R & J Framing offers a variety of plaques and frames for your testamur.
A selection of official RMIT branded merch is available at Campus Store.

Alumni benefits
Stay connected and enjoy a range of exclusive alumni benefits including free professional development, library access, discounts and more.
Official record of RMIT graduates
Showcase your award to a future employer!