Graduation
It's time to celebrate! Find out all about RMIT Graduation: how to apply, the ceremonies you can attend and the different academic statements available.
Graduation options
Graduation is different in 2021. Find out what this means for you, including how and where you'll graduate.
Academic statements
Find out when and how you'll get your Testamur/VE Qualification Statement and other academic statements.
Graduation terms
What's the difference between completion and graduation? How about conferral?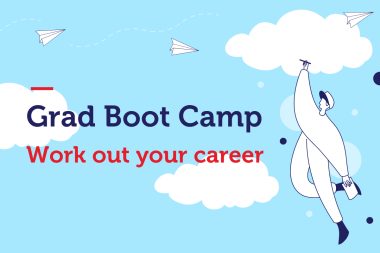 Grad Boot Camp, 29 June - 1 July
Get your career in shape before you graduate, with industry speakers, workshops, advice sessions and more.
Graduate in absentia and attend a 2021 ceremony (excluding SIM, Vietnam and SUIBE ceremonies)
Students who graduate in absentia in 2021 will also be invited to celebrate their achievements with their classmates, friends and family at a 2021 ceremony (excluding SIM, Vietnam and SUIBE ceremonies). Please note: if you apply to graduate at a ceremony, you won't graduate or get access to your Testamur/VE Qualification Statement until your chosen ceremony.
Official record of RMIT graduates
Showcase your award to a future employer!
Mementos for your milestone!
Photography
Get your professional graduation portrait taken with Reed.
Framing and plaques
R & J Framing offers a variety of plaques and frames for your testamur.
A selection of official RMIT branded merch is available at Campus Store.

Alumni benefits
Stay connected and enjoy a range of exclusive alumni benefits including free professional development, library access, discounts and more.