×
C-19 study: Learn online now and on campus later
Find out how we're helping you continue to go to uni during COVID-19. Learn about our
online enabled options.
Certificate IV in Marketing and Communication - BSB42415
Can you craft creative and persuasive communication? Blend creativity with business to develop strategic thinking skills in this course.
Quick facts
Student type:
Student type:
Quick facts
Duration

Full-time 6 months, Part-time may be available

Fees

Next intake

February, July

Fees

Next intake

Not applicable
Domestic
Sorry, this program is not available for local students.
Please contact us for more information.
Sorry, this program is not available for international students intending to study on a student visa.
If you hold a different visa type, you may be eligible. Please contact us for more information.
Shape what's next: what studying Marketing will look like in 2020
12:30pm - 1:00pm 4 June 2020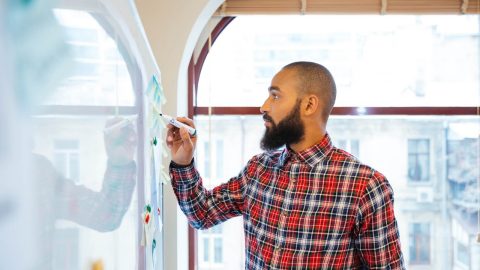 The Certificate IV in Marketing and Communication is designed to introduce you to the fundamentals of marketing communication concepts and practices in business. The units you'll study cover a broad range of topics applicable to the marketing and communications industry, giving you insight and skills in the following areas of study:
consumer insight and target audience profiling
media planning and buying
strategic marketing and research in business
digital media applications and software
social media marketing and advertising
creative and persuasive communications
website marketing and video production.
Drawing on RMIT's links to industry, you will be taught by experts, and learn and apply the latest software and platforms to implement solutions in business practices and industry.
The transferable skills you learn in this program will prepare you for the advertising, marketing and communications industries, or can be directly applied to your own business.
With this broad understanding of the marketing and communications industry, you will be able to pursue a role in industry, government or non-government sectors, enhance your existing business, or study further for a more in-depth understanding and application with the Diploma of Marketing and Communication.
Classes are interactive and will provide opportunities for you to discuss ideas, practise new skills, participate in group discussions and group work, and contextualise theory through industry-relevant scenarios and case studies.
Most of your classes will be held in RMIT's Swanston Academic Building features innovative learning spaces interspersed with retail and social spaces resulting in a stimulating environment for students.
RMIT offers a variety of learning and teaching approaches including lectures, tutorials, workshops, presentations, group discussions and work integrated learning. This is supported by online activities such as blogs, discussion boards, quizzes and wikis to further enhance learning.

Through RMIT University's online learning portal, myRMIT, you will be able to view online resources and learning activities created by lecturers, access course materials via Blackboard, collaborate with lecturers and fellow students, and access your student email account. Educational software, the Learning Hub, resources and printers are accessible on campus via the RMIT wireless network using your own laptop, tablet or smart phone or via computer facilities on-campus. You will be able to access the same software from home using myDesktop.

Find out more about student computing at RMIT.
Ongoing assessment throughout the semester includes essays, reports, presentations, group and individual projects, case studies, client projects, tests and work-simulated projects.
This program has been developed by RMIT's College of Business with extensive input from industry to ensure your learning prepares you effectively for current and future industry needs.
Professionals from the marketing and communication industry will speak in your classes to enhance your knowledge of the industry and give context to the theory and concepts you learn.
You will also complete work-integrated learning projects during the semester, completing assessable tasks in the workplace, working with organisations to solve real marketing communication problems or working on community-based projects.
This practical experience will complement your theoretical knowledge and enhance your communication, problem-solving and self-management abilities to meet workplace expectations.
Guiding the development of this program and others in the College of Business, both nationally and internationally, is an Industry Advisory Board of high-profile executives chaired by Gerhard Vorster, Chief Strategy Officer, Deloitte. A marketing and communication program advisory committee also guides the development of courses to ensure you are equipped with the most current, relevant skills and knowledge.
You will study 11 core courses and one elective covering marketing and communications including:
marketing and communication development

industry understanding and application

marketing fundamentals

understanding diverse consumers and markets

media scheduling and buying

industry communication skills.
Choose a program structure
Program code: C4384
National curriculum code: BSB42415
Title
Location
Duration
Plan code
CRICOS
Certificate IV in Marketing and Communication
City Campus

6 months full time study

6 months full time

C4384
Choose a program structure
Program code: C4384
National curriculum code: BSB42415
Certificate IV in Marketing and Communication
Duration
6 months full time study
6 months full time
VTAC Code
If you are eligible to apply via VTAC, copy and paste the below code into VTAC search.
Please ensure that you have checked the admissions requirements and apply page before applying.
As a graduate of this career-oriented course, you'll be able to pursue roles including:
marketing or communications officer
media, advertising or public relations officer
copywriter or content writer
market research assistant.
You may be interested in pursuing further study in marketing, advertising or media fields. Once you graduate, you may also choose to continue studying at the diploma and advanced diploma levels.
To improve your employability, you can participate in our Future Edge program to develop job-ready skills, visit the Job Shop for support with job seeking and applications, and explore Career Hub for workshops, volunteer work, and various career resources.
You'll also benefit from building your professional network while you're still studying. You have the opportunity to attend industry events, join the Economics, Finance and Marketing Student Association, sign up for RMIT Mentoring with a member of industry, and explore professional associations, including AMI, AANA, ADMA, and PRIA.
Current Year 12: Successful completion of Australian Year 12 or equivalent; or the Australian Senior VCAL Certificate.
This program does not select on ATAR.
Non-Year 12: Completion of post-secondary studies or at least 6 months' work experience.
You are now viewing content in a pop-up style. Click escape to return to the page
Close
/