Chathumini Samarawickrama
I am Chathu, a Master's by Research student at RMIT University. I am an outdoorsy person who enjoys hiking as it always gives me a sense of achievement and satisfaction (…and of course the breathtaking views). I completed my undergraduate degree, Bachelor of Engineering (Honours) majoring in Chemical Engineering at Monash University, Clayton in 2016.
I have worked in a few completely distinct areas of science or engineering such as nano-composites, wastewater and corrosion. I started my Master's degree by Research in August, 2018 in the area of corrosion inhibitors.
Skills
Zeta Potential Analyser utilising Phase Analysis Light Scattering
Analysis of COD (Chemical Oxygen Demand) and Turbidity meter
Instron for tensile strength testing
Production of nano-composite sheets using the British hand sheet maker.
SEM – Scanning Electron Microscopy – Secondary Electrons (SE), Backscattered Electrons (BSE) and Energy Dispersive X-ray (EDX)
XRD – X-Ray Diffraction
Master's by Research Project
Topic: Study of mechanisms of film forming behaviour of corrosion inhibitors for commercial grade aluminium alloys.
Aluminium alloys are well known and widely used for their many useful properties such as low density (light weight), high strength, high electrical conductivity, etc. Amongst the number of available aluminium alloys, AA2024 is one of the most commonly used, although its analysis is complicated.
In the past, a significant amount of work has been conducted into the use of corrosion inhibitors for AA2024 Al-Alloy. A Rapid Screening Technique developed by CSIRO has been adopted for testing a wide range of potential inhibitors in a short time period. Whilst these studies have revealed several corrosion inhibitors that show potential for the Al-alloy AA2024, there is a lack of knowledge as to the physical mechanisms associated with these systems, particularly the inhibitors that form films on the surface. However, different authors have defined this 'film' in different manners and according to different terminology. Therefore, the aim of this study is to determine the mechanisms of this film formation by using 2-mercaptobenzothiazol, 2-mercaptobenzimidazole, 6-amino-2-mercaptobenzothiazole on AA2024-T3, which are known to display impressive performances. These will be characterised accordingly through the use of a range of electrochemical and surface analytical techniques.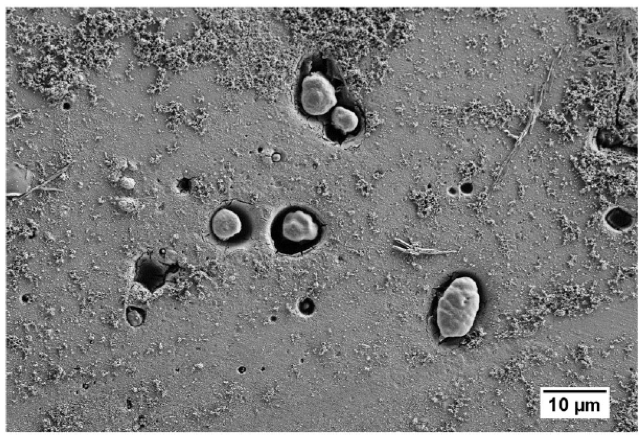 Figure 1: Scanning Electron Micrograph of the surface of AA2024-T3 after 6h of immersion in 3.5% NaCl, showing trenching in the proximity of second phase particles [1].
Prior Work
Undergraduate Research Project (March-May 2016): Micro-fibrillated Cellulose – SiO2 Nano-composites: Its properties and functions as membranes
Polymer membranes are extensively used in many filtration applications, and the main focus of this project was to develop a cost-efficient and environmental friendly alternative to polymer membranes using micro-fibrillated cellulose and nano-fillers that are suitable for ultrafiltration applications.
Bachelor's Degree - Internship Project (03/2018-05/2018): Wastewater Treatment
During a 3-month internship at Waterwerx Pty Ltd, recently re-branded as Blue Azzurance, I had the opportunity to work on determining the best chemistry/chemicals for wastewater treatment of different samples.
Further Information
Primary Supervisor: Dr Liam Ward
Associate Supervisor: Prof. Ivan Cole
References
[1] A. C. Balaskas, M. Curioni, and G. E. Thompson, "Effectiveness of 2‐mercaptobenzothiazole, 8‐hydroxyquinoline and benzotriazole as corrosion inhibitors on AA 2024‐T3 assessed by electrochemical methods," Surface and Interface Analysis, vol. 47, no. 11, pp. 1029-1039, 2015. https://doi.org/10.1002/sia.5810
Explore more