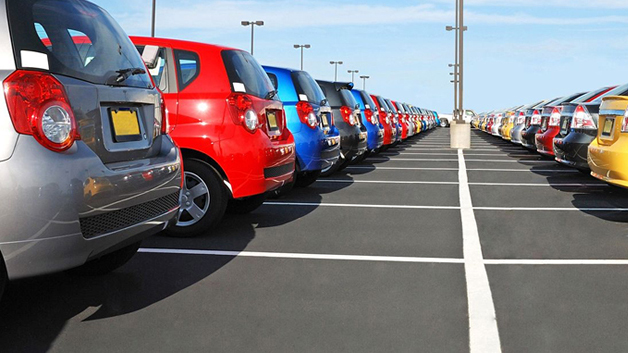 Parking at Melbourne City campus
Car, motorcycle, and bicycle parking
RMIT's commercial car park in Building 91 (110 Victoria Street) is independently managed by Care Park. Care Park can be contacted at
cpsales@carepark.com.au
or 03 9682 1733.
Hours

Public Rate

0 mins - 1 hr

$12.00

1 - 2 hrs

$20.00

2 - 3 hrs

$28.00

3 - 4 hrs

$32.00

4 - 5 hrs

$40.00

5 - 6 hrs

$50.00

Daily Max

$50.00

Early Bird Rate

$18.00

Entry/Exit

Enter between 6.30 - 10.00am

Exit before close

Evening/Night rate

$10.00

Entry/Exit

Enter after 4pm, exit before close

If you prefer the flexibility of street parking, the City of Melbourne offers more than 3000 parking bays throughout the central business district. Please be aware that these parking bays are subject to enforced parking restrictions.
Motorcycle parking is now available for RMIT students and staff in Building 91 car park on City campus (110 Victoria Street). The car park is open from 6am to 10pm.
Approximately 50 bays have been allocated across all levels of the car park. For bay locations, please see the Building 91 car park map (PDF, 1.6mb, 9p) – bays are indicated by green shading within the map.
No fee will be charged, but in order to use the car park, motorcycle users will need to register for a permit via the Easypark system.
How to register
Register online with EasyPark using your RMIT email address. You will need to create a new password that is eight characters long (this includes one capital letter and one number).
Provide your address and contact details.
Under 'Apply for permits' enter your vehicle registration number and continue.
Below you should find parking permit options available to you. Select the permit you require - either 'Annual Student and Staff Motorcycle Permit' or 'Bi-Annual Student and Staff Motorcycle Permit'
Once you accept the terms and conditions and select 'apply', your permit is active.
If you cycle to campus secure bike parking facilities are available at the following locations:
Building 51 basement car park, 80-92 Victoria Street, Carlton (with showers and changing rooms).
Building 80 (Swanston Academic Building), Level 1, 445 Swanston Street, Melbourne (with showers, changing rooms and lockers).
Building 100 (Design Hub), Basement, 150 Victoria Street.
To gain access to these facilities using your student card complete the Bike Cage Security form (PDF 22kb, 1p) and submit it to security@rmit.edu.au or visit RMIT Security Reception, Building 5, Level 1 (entry via Chemistry Lane), City campus.
Important: bikes are not allowed inside RMIT buildings except to access bike parking facilities. During this transit cyclists must dismount.
Students with disabilities
RMIT doesn't have any designated DDA parking facilities at the City campus. However, there are numerous street parking options available which require a Council-issued parking permit.
We recommend that, if eligible, you apply for a City Access Permit.
Staff and students are required to observe parking regulations on campus and are likely to be issued a Parking Infringement Notice (PIN) / Fine if they breach parking regulations.
From 1 July 2020 (2020/2021); the new parking infringement fees are:
Band 1 - $33.00
Band 2 - $99.00

Band 3 - $165.00
Important: Students are reminded that all parking costs are a part of the RMIT University 2020 Schedule of Fees. Failure to pay a parking fine has the same consequence as the non-payment of any other student fee.
Important info
The cost of parking permits and the fines for parking without a permit are RMIT-approved student fees. Failure to purchase a permit or pay a parking fine will have the same consequences as not paying any other student fee.
RMIT is an authorised Enforcement Agency through Fines Victoria and an Authorised Officer may issue PIN's in line with the following Acts.
s35 and s61 RMIT Act 2010 (Vic)
s90K (g),(i),(iii) and (v) Road Safety Road Rules 2017 (Vic)

s13 Infringements Act 2006 (Vic)
Rule 8 Infringements (Reporting and Prescribed Details and Forms) Regulations 2006 (Vic).
Penalties are set by the Victorian Government under s87(3) of the Road Safety Road Rules 2017 (Vic).
Parking equipment failure
Please report any defective parking equipment immediately to the
Service Desk
.
Replacement of lost or stolen permits will attract the full fee.
There is no refund available for lost or stolen parking permits.
Lost or stolen permits can only be replaced free of charge if evidence in the form of a police report or insurance claim form is provided. Otherwise, the permit will only be replaced if an additional fee is paid.