Bachelor of Applied Science (Surveying) (Honours)
Utilise practical skills and advanced mathematics to pursue a highly technical career in surveying, and let the world be your office.
Student type:
Quick facts
Entry score

Duration

Full-time 4 years

Fees

Next intake

February, July

Duration

Full-time 4 years
Domestic,International
Sorry, this program is not available for local students.
Please contact us for more information.
Sorry, this program is not available for international students intending to study on a student visa.
If you hold a different visa type, you may be eligible. Please contact us for more information.
Your career in surveying
Surveying is an exciting career often involving travel with a mix of outdoor and indoor work. Opportunities are forecast to keep growing with a current shortage of qualified professionals.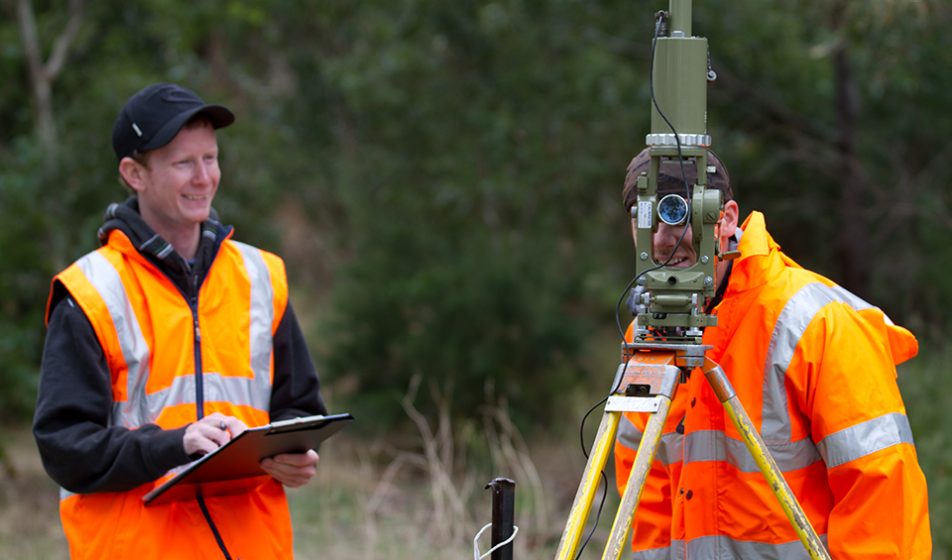 What you will learn in this degree
RMIT offers the only undergraduate surveying degree in Victoria. It is accredited with local and international surveying organisations and thoroughly prepares you to enter the profession.
Surveyors use advanced equipment and specialised software to determine the accurate position of features. These include:

robotic laser instruments to observe and record surveys

light beams to electronically measure distance

satellite positioning technology (GPS) to fix positions.
This degree provides you with the essential skills and knowledge required to succeed as a professional surveyor. These include:
a thorough knowledge of algebra, basic calculus, geometry, and trigonometry

the laws that deal with surveys, property, and contracts

the ability to use delicate instruments with accuracy and precision.
This degree strongly links theory and practice. Most subjects incorporate extensive practical work to build skills as well as knowledge.
For example, you'll undertake an exercise based on the Yarra Bend Park Strategy Plan. You'll survey an area of the park, then model, design, and illustrate an amphitheatre to suit the local environment.
You'll carry out a final-year research project that is industry approved and reflects current best practice.
You'll also complete 60 days of work experience, usually in the form of paid employment during vacation periods or as a part-time employee (we can sometimes assist you to find a placement).
RMIT students can undertake one or more semesters at an overseas institution through Education Abroad at more than 120 partner universities.

Early in the degree, you'll study the fundamentals of measurement science, cartography, and spatial information science (GIS). Other required skills in mathematics, statistics, and physics are also covered.
Later, more specialised studies are offered in geodesy, map projections, spatial analysis, remote sensing, image analysis, and professional practice.
Specialised studies in cadastral and engineering surveying, GPS, and advanced adjustment methods are central components of the degree.
Practical work
Field camps are held in the second and third years to reinforce theoretical learning and allow you to exercise your knowledge of real-world problems.
Practical work is based on industry-standard software and hardware, the same tools you will find in the workplace. You will have ample opportunities to develop skills and experience with these tools.
Learning support
Learning support includes a first-year transition program, academic coordinators for each year level, and an active Geospatial Science Student Association. There is also a dedicated field station at Yarra Bend Park to support practical work.
Choose a program structure
Program code: BH116
Title
Location
Duration
Plan code
CRICOS
Bachelor of Applied Science (Surveying) (Honours)
City Campus

4 years full time (8 semesters)

4 years full time

BH116
084350E
Choose a program structure
Program code: BH116
Bachelor of Applied Science (Surveying) (Honours)
Duration
4 years full time (8 semesters)
4 years full time
VTAC Code
If you are eligible to apply via VTAC, copy and paste the below code into VTAC search.
Please ensure that you have checked the admissions requirements and apply page before applying.
VTAC Code
If you are eligible to apply via VTAC, copy and paste the below code into VTAC search.
Please ensure that you have checked the admissions requirements and apply page before applying.
Surveyors play a major role in land development, from the planning and design of land subdivision, through to the final construction of the roads, utilities, and landscape planning.
They also play an important part in the construction industry providing detailed design plans for the subsequent construction of roads, freeways, tunnels, bridges, pipelines, and high-rise buildings.
Some surveyors work with mining companies on exploration, mining development, and mining operations.
Other surveyors specialise in hydrographical surveys, working with automated position and sounding equipment on survey ships to map the ocean floor.
You may be employed in small or medium-sized consultancy businesses in the private sector or in government agencies.
Many graduates enter a Professional Training Agreement and become licensed surveyors.
You can find out more about surveying by visiting:
The degree is externally accredited through the Surveyors Registration Board of Victoria. This means that the Board has identified it as one of the qualifications that leads to registration as a Licensed Surveyor in Victoria.

The Board is also a member of the Council of Reciprocating Surveyors Boards of Australia and New Zealand. Since 1892 the Council has been overseeing the reciprocal recognition of surveyor licensing between Australian States and Territories and New Zealand.
Graduates are eligible to apply for membership of The Institution of Surveyors Victoria and the Surveying and Spatial Sciences Institute.

The degree has international accreditation with the Royal Institution of Chartered Surveyors which also entitles graduates to membership of that Institute.
The degree is also accredited by the Land Surveyors Board of Malaysia as a recognised qualification.
You must have successfully completed an Australian Year 12 (or equivalent qualification).
Prerequisites
Victorian Certificate of Education (VCE) units 3 and 4: a study score of at least 30 in English (EAL) or at least 25 in English other than EAL and units 3 and 4: a study score of at least 20 in one of Maths: Mathematical Methods or Maths: Specialist Mathematics, or equivalent studies.
Rankings and adjustment factors
Entry to this program is competitive. Eligible applicants are ranked and selected in order of merit based on their academic achievement plus any adjustment factors.
Adjustment factors include equity access schemes and/or subject adjustments.
We will consider your entire academic record to determine your eligibility for entry. The highest level of education you have previously completed will usually determine how you are ranked.
Selection criteria by applicant type
Please select the highest level of education you have or will be completing in order to find out the selection criteria that applies to you, in addition to meeting the above entry requirements.
View the
ATAR profile
and selection rank from students offered a place into this program wholly or partly on the basis of ATAR in the most relevant recent intake period.

*ATAR refers to the lowest selection rank to which an offer was made (including consideration of any adjustments) for current and recent Year 12 applicants.
RMIT is committed to providing transparency to the admissions process. In line with this commitment, we provide you with information that will help in making informed choices about your undergraduate study options. Find out more about RMIT's commitment to admissions transparency.
This course offers pathway options. If you don't meet the entry requirements, a formal pathway might be your way in.
Undertaking a certificate, diploma, advanced diploma or associate degree can help you meet the entry requirements for your preferred course. These qualifications often provide credit, reducing the duration of your bachelor degree and helping you get the degree you want.
Use our Pathways finder or contact Study@RMIT for more information.
Credit and recognition of prior learning
Credit, recognition of prior learning, professional experience and accreditation from a professional body can reduce the duration of your study by acknowledging your earlier, relevant experience. Find out if you might be eligible.
Looking for answers or more general infomation?
For frequently asked questions or how to find more information regarding applications and enrolments, fees, student support services, university policies and more, please visit our Frequently Asked Questions.
You are now viewing content in a pop-up style. Click escape to return to the page
Close
/