×
C-19 study: Learn online now and on campus later
Find out how we're helping you continue to go to uni during COVID-19. Learn about our
online enabled options.
Bachelor of Interior Design (Honours)
An expansive practice that addresses the relation between people and their environments: how we live, work and play.
Student type:
Quick facts
Entry score

Duration

Full-time 4 years

Location

Melbourne City

Fees

Next intake

February, July

Entry score

Duration

Full-time 4 years

Location

Melbourne City

Fees

Next intake

February, July

Create a personalised brochure
Domestic,International
Sorry, this program is not available for local students.
Please contact us for more information.
Sorry, this program is not available for international students intending to study on a student visa.
If you hold a different visa type, you may be eligible. Please contact us for more information.
In the 21st century, the definition of 'interior' can no longer be simply equated to the inside of a building. Conditions of interior and interiority are increasingly affected and transformed by contemporary technologies as well as social and cultural forces and relationships.
Focused on the dynamic relations between people and the surrounding environment, this ideas-led design course explores the potential and future of interior design as a practice. This degree will challenge your assumptions about interior design. You will learn to think and operate like a designer you will learn from distinguished design practitioners.
You will build design skills through responding to a range of design briefs, from the conceptual to real-life situations. You will be provided with technical and communication tools such as Rhino, Revit, 3D imaging, hand-drawing, film production and model making, as well as verbal presentation skills. You will also have the opportunity to travel and engage with industry through workshops and projects that allow you to respond to complex design challenges.
Students in third and fourth year have the opportunity to undertake internships and gain valuable experience with leading design practices in Melbourne and internationally.
Four years of ideas-led designing
Working in a highly creative studio setting, you will develop rich experiential sensibilities and a sophisticated array of approaches to the design of interior environments. These could range from detailed, material-focused projects including furniture and joinery, to event-based situations like exhibitions, installations and performances, or large-scale complex projects, such as commercial spaces, retail precincts and public or community centres.
Different interiors are considered, from architectural, retail, exhibition and urban environments to digital and filmic spaces, performance and theatre design, art installations and more.
Your studies conclude with the highly-celebrated graduate exhibition INDEX. This event brings together industry, staff and students to celebrate the discipline of Interior Design and its future through the work of these emerging designers.
Ever since primary school I have been interested in drawing and creativity. My older siblings were heading into university when I was still quite young. That's when I became familiar with RMIT, and after recognising its high reputation for technology and design I was even more inspired.
- Alexandra Pestrivas, Bachelor of Interior Design (Honours) student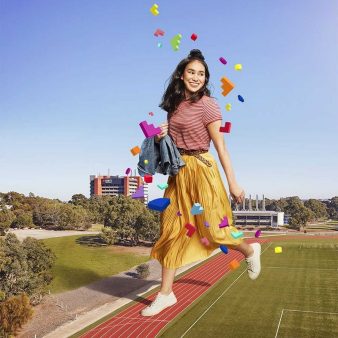 Choose a program structure
Program code: BH115
Title
Location
Duration
Plan code
CRICOS
Bachelor of Interior Design (Honours)
City Campus

4 years full-time

4 years full-time

BH115
083945G
Choose a program structure
Program code: BH115
Bachelor of Interior Design (Honours)
Duration
4 years full-time
4 years full-time
Many graduates work in interior design and architectural practices where commissions may range from residential, retail and entertainment, to hospitality, corporate office and public building design. These practices vary in scale, from large corporate offices to teams of two or three.
As an interior designer, you may also work in film and television design, set design for theatre, furniture design, exhibition design and curating, event planning and design journalism.
Design practices are becoming increasingly multidisciplinary, with interior designers, landscape architects, architects, industrial designers and graphic designers collaborating on large-scale projects. Graduates have gone on to work at Woods Bagot, the National Gallery of Victoria, and in their own design practices.
Graduates are eligible for membership of the Design Institute of Australia (DIA).
This RMIT degree participates in a local and global conversation and network through membership of:
Design Institute of Australia (DIA)
RMIT is committed to providing transparency to the admissions process. In line with this commitment, we provide you with information that will help in making informed choices about your undergraduate study options. Find out more about RMIT's commitment to admissions transparency.
You must meet the minimum academic entry requirements for this program. Meeting these requirements does not guarantee you entry due to the competitive nature of this program. Overseas qualifications will be assessed for Australian equivalence.
RMIT's selection criteria, outlined below according to your highest completed level of education, will provide you with a better understanding of the minimum admissions requirements needed for this program.
Applications will be accepted until Friday 17 July 2020 unless places are filled earlier.
This course offers pathway options. If you don't meet the entry requirements, a formal pathway might be your way in.
Undertaking a certificate, diploma, advanced diploma or associate degree can help you meet the entry requirements for your preferred course. These qualifications often provide credit, reducing the duration of your bachelor degree and helping you get the degree you want.
Use our Pathways finder or contact Study@RMIT for more information.
Credit and recognition of prior learning
Credit, recognition of prior learning, professional experience and accreditation from a professional body can reduce the duration of your study by acknowledging your earlier, relevant experience. Find out if you might be eligible.
When you successfully complete the Bachelor of Interior Design (Honours) and achieve a minimum GPA of 2.5 (out of 4.0), you are guaranteed entry into the Master of Interior Design with 2 semesters of advanced standing (equivalent to 96 credit points).
If you achieve below the minimum GPA, you may still apply and will need to submit a folio. Applicants will be assessed on a case-by-case basis.
Alternatively, you may be eligible for entry into an RMIT postgraduate program or RMIT Masters by Research or Doctoral (PhD) program.
You are now viewing content in a pop-up style. Click escape to return to the page
Close
/