×
C-19 study: Learn online now and on campus later
Find out how we're helping you continue to go to uni during COVID-19. Learn about our
online enabled options.
Bachelor of Interior Design (Honours)
An expansive practice that addresses the relation between people and their environments: how we live, work and play.
Student type:
Quick facts
Entry score

Duration

Full-time 4 years

Fees

Next intake

February, July

Entry score

Duration

Full-time 4 years
Domestic,International
Sorry, this program is not available for local students.
Please contact us for more information.
Sorry, this program is not available for international students intending to study on a student visa.
If you hold a different visa type, you may be eligible. Please contact us for more information.
In the 21st century, the definition of 'interior' can no longer be simply equated to the inside of a building. Conditions of interior and interiority are increasingly affected and transformed by contemporary technologies as well as social and cultural forces and relationships.
Focused on the dynamic relations between people and the surrounding environment, this ideas-led design course explores the potential and future of interior design as a practice. This degree will challenge your assumptions about interior design. You will learn to think and operate like a designer you will learn from distinguished design practitioners.
You will build design skills through responding to a range of design briefs, from the conceptual to real-life situations. You will be provided with technical and communication tools such as Rhino, Revit, 3D imaging, hand-drawing, film production and model making, as well as verbal presentation skills. You will also have the opportunity to travel and engage with industry through workshops and projects that allow you to respond to complex design challenges.
Students in third and fourth year have the opportunity to undertake internships and gain valuable experience with leading design practices in Melbourne and internationally.
Four years of ideas-led designing
Working in a highly creative studio setting, you will develop rich experiential sensibilities and a sophisticated array of approaches to the design of interior environments. These could range from detailed, material-focused projects including furniture and joinery, to event-based situations like exhibitions, installations and performances, or large-scale complex projects, such as commercial spaces, retail precincts and public or community centres.
Different interiors are considered, from architectural, retail, exhibition and urban environments to digital and filmic spaces, performance and theatre design, art installations and more.
Your studies conclude with the highly-celebrated graduate exhibition INDEX. This event brings together industry, staff and students to celebrate the discipline of Interior Design and its future through the work of these emerging designers.
Ever since primary school I have been interested in drawing and creativity. My older siblings were heading into university when I was still quite young. That's when I became familiar with RMIT, and after recognising its high reputation for technology and design I was even more inspired.
- Alexandra Pestrivas, Bachelor of Interior Design (Honours) student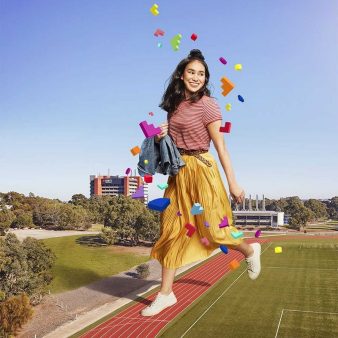 Choose a program structure
Program code: BH115
Title
Location
Duration
Plan code
CRICOS
Bachelor of Interior Design (Honours)
City Campus

4 years full-time

4 years full-time

BH115
083945G
Choose a program structure
Program code: BH115
Bachelor of Interior Design (Honours)
Duration
4 years full-time
4 years full-time
Many graduates work in interior design and architectural practices where commissions may range from residential, retail and entertainment, to hospitality, corporate office and public building design. These practices vary in scale, from large corporate offices to teams of two or three.
As an interior designer, you may also work in film and television design, set design for theatre, furniture design, exhibition design and curating, event planning and design journalism.
Design practices are becoming increasingly multidisciplinary, with interior designers, landscape architects, architects, industrial designers and graphic designers collaborating on large-scale projects. Graduates have gone on to work at Woods Bagot, the National Gallery of Victoria, and in their own design practices.
Graduates are eligible for membership of the Design Institute of Australia (DIA).
This RMIT degree participates in a local and global conversation and network through membership of:
Design Institute of Australia (DIA)
You must have successfully completed an Australian Year 12 (or equivalent qualification).
Prerequisites
Victorian Certificate of Education (VCE) units 3 and 4: a study score of at least 30 in English (EAL) or at least 25 in English other than EAL, or equivalent studies.
Rankings and adjustment factors
Entry to this program is competitive. Applicants are ranked and selected in order of merit based on the assessment of their selection task.
Selection task
Semester 1, 2021
You must complete and submit the Interior Design selection task.

VTAC applicants must register and submit the selection task.

All tasks must be submitted by the dates noted below for each VTAC round:

Early round (Non year 12 only): 30 September 2020
Main round (All applicants): 6 November 2020
All subsequent rounds (if places are available): 12 February 2021

RMIT current or recent students please click the apply button to submit your direct application. The link to submit your selection task will appear on the applicant dashboard after you have submitted your application.

All tasks must be submitted by 26 February 2021. Tasks will be assessed in the order they are received until this date unless places are filled prior.
Attend a folio presentation (some applicants)
Shortlisted applicants are required to attend a folio presentation.
Folio presentations will be held in October (VTAC Early round) and December (VTAC main round).
For all subsequent rounds and direct applicants, folio presentations will be arranged after you have submitted your application.
Advisory letters will be sent in late October (Early round) and mid December (Main round).
The selection task requires:
An applicant statement outlining your interest in interior design (maximum 150 words)
A statement describing your experience such as employment, voluntary work, etc., or a description of what you have done, over what periods and how it strengthens your application to this program (maximum 150 words)
A two (2) part design exercise which provides an opportunity to communicate your creative thinking through an image and written responses. You should draw on your own experience, imagination and skills in putting forward a thoughtful and creative response of your own. There is no one correct response that we are looking for and we do not expect you to have any substantial prior knowledge of interior design. In this task we are looking for you to demonstrate a critical and considered understanding of your own work.

Part 1: Provide a piece of your own work (a single image) that demonstrates your creative abilities. You are free to use any medium, including drawing, illustration, model making or sculpture, photography, collages, painting - anything that you think will express your creativity.

The image must be formatted as JPEG or PDF and must be no larger than 3MB or you may provide a URL to your single image if hosted online.

Part 2: In no more than 300 words, discuss the thinking behind the creative piece you selected in Part 1 including the reasons why you selected it.
Selection criteria by applicant type
Please select the highest level of education you have or will be completing in order to find out the selection criteria that applies to you:

View the following videos for some practical application advice:
View the
ATAR profile
and selection rank from students offered a place into this program wholly or partly on the basis of ATAR in the most relevant recent intake period.

*ATAR refers to the lowest selection rank to which an offer was made (including consideration of any adjustments) for current and recent Year 12 applicants.
RMIT is committed to providing transparency to the admissions process. In line with this commitment, we provide you with information that will help in making informed choices about your undergraduate study options. Find out more about RMIT's commitment to admissions transparency.
This course offers pathway options. If you don't meet the entry requirements, a formal pathway might be your way in.
Undertaking a certificate, diploma, advanced diploma or associate degree can help you meet the entry requirements for your preferred course. These qualifications often provide credit, reducing the duration of your bachelor degree and helping you get the degree you want.
Use our Pathways finder or contact Study@RMIT for more information.
Credit and recognition of prior learning
Credit, recognition of prior learning, professional experience and accreditation from a professional body can reduce the duration of your study by acknowledging your earlier, relevant experience. Find out if you might be eligible.
When you successfully complete the Bachelor of Interior Design (Honours) and achieve a minimum GPA of 2.5 (out of 4.0), you are guaranteed entry into the Master of Interior Design with 2 semesters of advanced standing (equivalent to 96 credit points).
If you achieve below the minimum GPA, you may still apply and will need to submit a folio. Applicants will be assessed on a case-by-case basis.
Alternatively, you may be eligible for entry into an RMIT postgraduate program or RMIT Masters by Research or Doctoral (PhD) program.
Looking for answers or more general infomation?
For frequently asked questions or how to find more information regarding applications and enrolments, fees, student support services, university policies and more, please visit our Frequently Asked Questions.
You are now viewing content in a pop-up style. Click escape to return to the page
Close
/