Bachelor of Fashion (Design) (Honours)
Take your passion further with intensive study and further research into design practice, develop your portfolio, and pitch to industry.
Quick facts
Student type:
Student type:
Quick facts
Entry score

Duration

Full-time 1 year

Fees

Next intake

February, July

Entry score

Duration

Full-time 1 year
Domestic,International
Sorry, this program is not available for local students.
Please contact us for more information.
Sorry, this program is not available for international students intending to study on a student visa.
If you hold a different visa type, you may be eligible. Please contact us for more information.
In this honours degree, you will have the opportunity to expand your fashion design knowledge, refine your vision, further research your design practice, and pitch your work to industry.
We seek to imagine future commercial contexts, create ethical design propositions, and use cross-disciplinary design strategies to drive global and competitive fashion design practices. You will extend your design, communication and presentation methods and strategies for fashion garments, products, accessories, objects, artefacts, materials, spaces and experiences of and for the body.

You will graduate with a portfolio of practice, development and research to prepare you for your career. Additionally, you will work with academic staff and industry experts to produce a digital publication, showcasing your graduate outcomes globally.

Fashion at RMIT has a global reputation for excellence. This degree has a stellar record of students and graduates winning major fashion design awards and scholarships, and receiving the invitation to participate in national and international showcase events.

Your career in Fashion
Graduates create independent and niche practices, work in leading commercial, luxury and emerging contemporary brands, and go on to establish independent and collaborative research practices and enterprises both in Australia and all over the world.
Amy Lawrence, Fashion Design Honours Collection, 2020. Models Cherry De Vere, photography by Zoe Kostopoulos.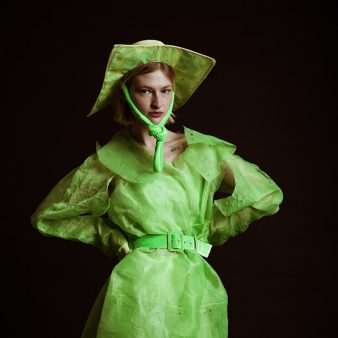 In this creative and hands-on honours degree, you'll undertake extensive research, apply learned skills and techniques to a major project, reinforce your vision and position within fashion, and work closely with industry throughout. You'll be guided through advanced learning and studio practice, and execute work that aligns with industry and cross-discplinary projects and ideas.
Choose a program structure
Program code: BH127
Title
Location
Duration
Plan code
CRICOS
Bachelor of Fashion (Design) (Honours)
City Campus

1 year full-time

1 year full-time

BH127
Choose a program structure
Program code: BH127
Bachelor of Fashion (Design) (Honours)
Duration
1 year full-time
1 year full-time
As a graduate, you will be able to meet the challenges of competitive fashion industry practice, as well as having confidence in your capabilities to launch independent and emerging brands. These roles are in fashion enterprises, emerging international brands, luxury and high fashion brands, as well as in related disciplines contexts of design, production, communications, creative direction and styling, branding, buying, media, publications and textile and product development.
As a graduate, you will be an engaged designer, critically aware of the larger ethical, social, cultural, environmental and political concerns that need to be addressed in contemporary relevant design practice.
RMIT is committed to providing transparency to the admissions process. In line with this commitment, we provide you with information that will help in making informed choices about your undergraduate study options.
RMIT admits students from a range of educational pathways, including Year 12 results, previous higher education or vocational education study, work experience, and for some programs - interviews, auditions or portfolios.
To get a better understanding of admissions at RMIT, view our admissions information.
You must have successfully completed an Australian three-year bachelor degree in fashion design (or equivalent overseas qualification) with an overall grade point average (GPA) of at least 2.0 out of 4.0.
Semester 1, 2022
You must complete and submit the Fashion (Design) (Honours) selection task by no later than 25 February 2022. Entry into this program is competitive, and applications are assessed in the order that they are received until this date, if places are still available. For your best chance at admission into this program, you are encouraged to apply as early as possible.
Please click the apply button to submit your direct application. The link to submit your selection task will appear on the applicant dashboard after you have submitted your application.
The selection task requires:

Applicant statement

Submit a 400-word written personal statement briefly outlining your:
Plans for what you will investigate in this program (Maximum 100 words)
Career aspirations and the contexts or markets of design practice (Maximum 100 words)
Interests in fashion design research and related contemporary issues (Maximum 100 words)
Current skills and capabilities and past experience that will support you in this program (Maximum 100 words)
Folio
The folio must comprise of no more than 15 pages of your work, and should reflect your design, thinking and technical skills in fashion design practice with a focus on the following:
Knowledge in fashion design and specialisations of practice
Evidence of research, critical and conceptual analysis
Documentation of design process and design ideas
Sustained written work including practice reflection, academic essays or creative writing
Finished garments or prototypes in documented form
Publications, photographs, films or other forms of fashion communication.
Upload your folio as a single PDF or JPEG file with your application. You can photograph or scan your work, but please make sure that it is in focus and well presented. Files should be no larger than 10MB. Under each image, please provide a brief explanation, including the purpose and background of the work (maximum 50 words).

Alternatively, you can provide a URL to your folio (please provide the password if applicable). All images must be contained and visible on one webpage. Provide a brief explanation for each image, including the purpose and background of the work (maximum 50 words).
Credit and recognition of prior learning
Credit, recognition of prior learning, professional experience and accreditation from a professional body can reduce the duration of your study by acknowledging your earlier, relevant experience. Find out if you might be eligible.
Looking for answers or more general infomation?
For frequently asked questions or how to find more information regarding applications and enrolments, fees, student support services, university policies and more, please visit our Frequently Asked Questions.
You are now viewing content in a pop-up style. Click escape to return to the page
Close
/