×
C-19 study: Learn online now and on campus later
Find out how we're helping you continue to go to uni during COVID-19. Learn about our
online enabled options.
Bachelor of Pharmacy (Honours)
Take the first step towards becoming a pharmacist.
Student type:
Quick facts
Entry score

Duration

Full-time 4 years

Fees

Entry score

Duration

Full-time 4 years
Domestic,International
Sorry, this program is not available for local students.
Please contact us for more information.
Sorry, this program is not available for international students intending to study on a student visa.
If you hold a different visa type, you may be eligible. Please contact us for more information.
Your career as a pharmacist
As a pharmacist you ensure safe and effective use of medicines. Career options include working in both community and hospital pharmacies, for the pharmaceutical industry, or in administration.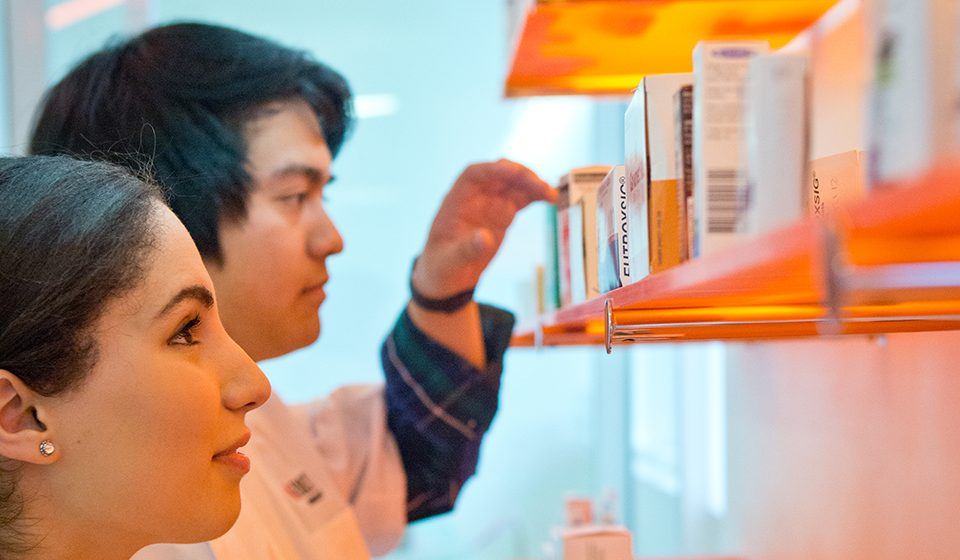 What you will study
In this course you'll gain knowledge of how drugs are formulated into medicines and administered and how they are used in the treatment of disease.
This four-year degree is your first step to becoming a pharmacist. It prepares you for the one-year internship program that you need to successfully complete in order to gain Australia-wide registration.
Once you've successfully completed the degree and the internship, you can practise in any area of pharmacy in Australia, including community or hospital pharmacy.
Alternatively, the degree provides you with a foundation from which you can progress with further studies to achieve a range of other career opportunities.
As an RMIT pharmacy student you'll benefit from a supportive academic community with diverse research strengths. You'll be able to gain real-world experience through work placements in both hospital and community pharmacies.
You'll develop a sound scientific base in studies that include biochemistry, biostatistics, human biology, genetics, microbiology, immunology and cell biology.
In-depth knowledge of pharmacology, pharmacy practice, pharmaceutics and therapeutics is gained along with an understanding of drug development, clinical trials, regulatory affairs and pharmacovigilance.
Clinical placement is a key focus throughout this course.
Teaching labs are equipped with the latest pharmacy facilities. You'll begin to develop the skills of a pharmacy practitioner in the purpose-built model pharmacy, together with practical work experience in hospital, community and specialist work-integrated learning environments.
The course is taught by experienced professionals skilled in cutting-edge research and sessional staff with current industry experience.
Industry are involved in the delivery of this degree through:
Program advisory groups
Guest lecturing
WIL opportunities
Year 1
You'll study a number of science courses to give you a sound scientific base, including biochemistry, biostatistics, human biology, genetics, microbiology, immunology and cell biology; as well as pharmacy-specific courses, engaging you in the development of professional skills.
Year 2
You'll be immersed in specific education and training in the major discipline areas. As well as being introduced to pharmacology, physiology, physicochemical principles and therapeutics, you'll study pharmacy-specific professional practice and essential medicine formulations.
In Year 2 you'll engage in work-integrated learning experience embedded into the degree.
Year 3
You'll do in-depth study of major therapeutic areas supported by more detailed pharmacology and expand your knowledge and skills in pharmacy practice, with increased emphasis on work-integrated learning activities. You'll study advanced formulations, learn how to compound medicines for individual patients, and how the quality of medicines is regulated and assured.
Year 4
You'll expand your pharmacy practice and therapeutics proficiency through integrated study and engage in further work-integrated learning activities. You will learn about recent developments in medicines and complete a course preparing you for a major research project in your final semester of study.
Choose a program structure
Program code: BH102
Title
Location
Duration
Plan code
CRICOS
Bachelor of Pharmacy (Honours)
Bundoora Campus

4 years (8 semesters) full-time

4 years (8 semesters) full-time

BH102
079791M
Choose a program structure
Program code: BH102
Bachelor of Pharmacy (Honours)
Duration
4 years (8 semesters) full-time
4 years (8 semesters) full-time
Pharmacists prepare and dispense medicines in many forms. They also give patients advice on how to take or use their medicines in the safest and most effective way.
Pharmacists advise members of the public and other health professionals about both prescription and over-the counter medicines. They provide advice regarding which medicines to select, how much to take, how different medicines interact with each other, and any potential side effects.
Pharmacists also work in the research and development of medicines and other health-related products and they can manage pharmacies or pharmaceutical companies.
On completing this degree you need to undertake a one-year internship in order to gain Australia-wide registration.
On successful completion of the degree and your internship year, you can work in:
community pharmacies
hospital pharmacies
the pharmaceutical industry (quality control, sales, marketing, and management)
the bio-pharmaceutical industry
clinical trials administration
drug information agencies
drug regulation for government or companies
consulting to industry
pharmacy professional organisations
pharmacy academia
medical research and communications
Graduates have gone on to work at a range of organisations including:
Royal Melbourne Hosptial
Alfred Hospital
Austin Hospital
After the successful completion of internship and an examination, you'll be eligible for registration as a pharmacist with the Pharmacy Board of Australia.
A reciprocal registration also exists with the Pharmacy Council of New Zealand, allowing registration after a reduced period of working under supervision.
You must have successfully completed an Australian Year 12 (or equivalent qualification).
Prerequisites
Victorian Certificate of Education (VCE) units 3 and 4: a study score of at least 30 in English (EAL) or at least 25 in English other than EAL and units 3 and 4: a study score of at least 25 in Chemistry and units 3 and 4: a study score of at least 25 in any Mathematics, or equivalent studies.
Rankings and adjustment factors
Entry to this program is competitive. Eligible applicants are ranked and selected in order of merit based on their academic achievement plus any adjustment factors.
Adjustment factors include equity access schemes and/or subject adjustments.
We will consider your entire academic record to determine your eligibility for entry. The highest level of education you have previously completed will usually determine how you are ranked.
Selection criteria by applicant type
Please select the highest level of education you have or will be completing in order to find out the selection criteria that applies to you, in addition to meeting the above entry requirements.

*ATAR refers to the lowest selection rank to which an offer was made (including consideration of any adjustments) for current and recent Year 12 applicants.
RMIT is committed to providing transparency to the admissions process. In line with this commitment, we provide you with information that will help in making informed choices about your undergraduate study options. Find out more about RMIT's commitment to admissions transparency.
This course offers pathway options. If you don't meet the entry requirements, a formal pathway might be your way in.
Undertaking a certificate, diploma, advanced diploma or associate degree can help you meet the entry requirements for your preferred course. These qualifications often provide credit, reducing the duration of your bachelor degree and helping you get the degree you want.
Use our Pathways finder or contact Study@RMIT for more information.
Credit and recognition of prior learning
Credit, recognition of prior learning, professional experience and accreditation from a professional body can reduce the duration of your study by acknowledging your earlier, relevant experience. Find out if you might be eligible.
Looking for answers or more general infomation?
For frequently asked questions or how to find more information regarding applications and enrolments, fees, student support services, university policies and more, please visit our Frequently Asked Questions.
You are now viewing content in a pop-up style. Click escape to return to the page
Close
/