Bachelor of Arts (Fine Art)
Immerse yourself in a creative environment and hone your artistic practice with studio specialisations at a world-leading art and design school.
Student type:
Quick facts
Entry score

Duration

Full-time 3 years

Fees

Next intake

February, July

Duration

Full-time 3 years
Domestic,International
Sorry, this program is not available for local students.
Please contact us for more information.
Sorry, this program is not available for international students intending to study on a student visa.
If you hold a different visa type, you may be eligible. Please contact us for more information.
Learn fine art by making it
At RMIT you'll spend most of your time immersed in studios. This means more face-to-face time with teachers and more time to work on your art.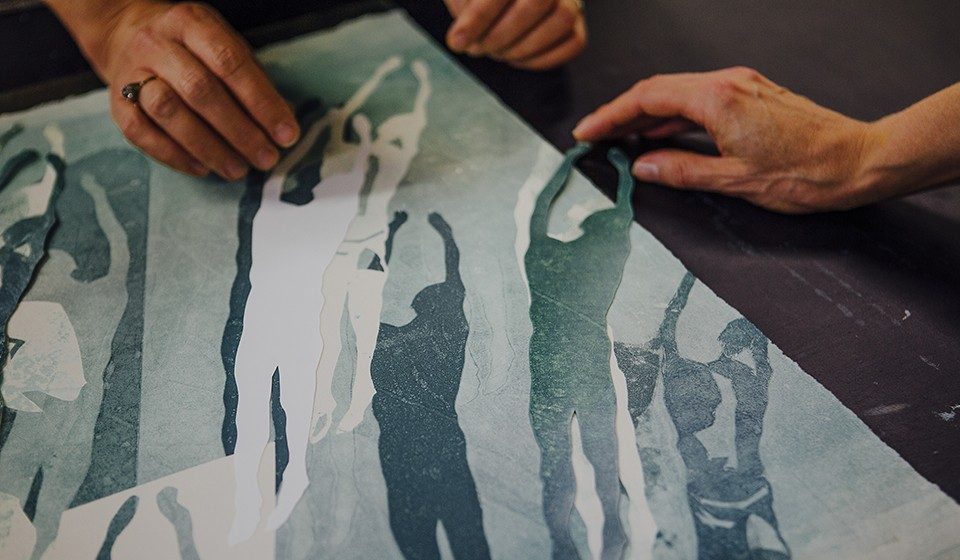 Your career in the creative industries
Work in diverse and creative roles such as professional artist, arts manager, technician, gallery director and curator.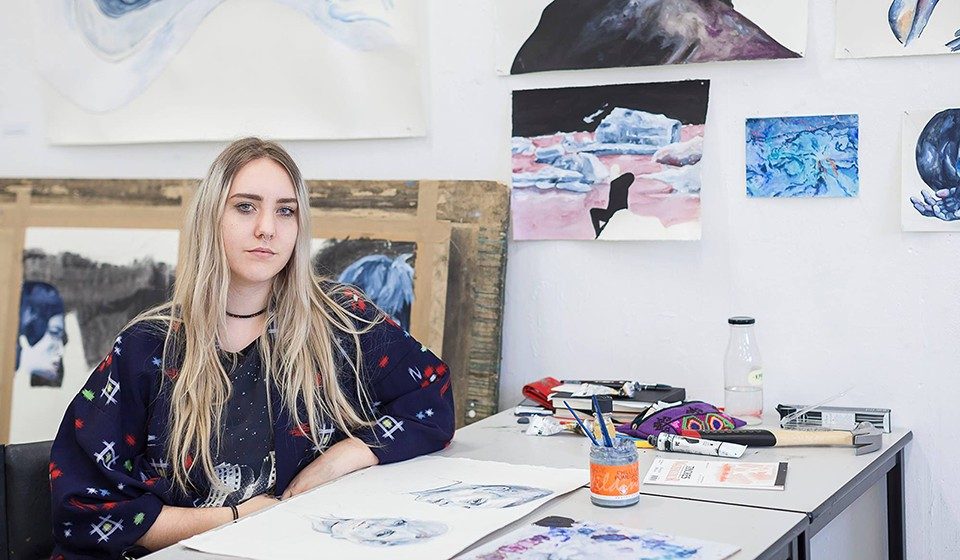 What's it like being an art and design student?
Students tell it like it is. Follow the journey of Vivian, Isaac and Justine as they prepare for their end-of-year exhibitions.

There's no better way to learn about art than by making it.

At RMIT you'll be immersed in fine art studios, where you'll gain the confidence and the tools to understand and interpret the world around you through art.
RMIT's teaching style is centered around you as an individual. You'll receive personal mentoring that challenges and pushes you to discover and form your own art practice or specialisation. Our teaching staff are active industry experts who are highly involved within the field of contemporary art. Studios are taught by high-profile practising artists who exhibit locally and internationally, so you can connect with what's happening in the art world.
Studios are complemented by studies in art history, theories and cultures, and in the professional skills you'll need to succeed in the arts and creative industries.
This degree is also delivered in Hong Kong by the Hong Kong Art School.
Choose a program structure
Program code: BP201
Title
Location
Duration
Plan code
CRICOS
Bachelor of Arts (Fine Art)
City Campus

3 years full time

6 Semesters

3 years full time

BP201P16
088785A
Choose a program structure
Program code: BP201
Bachelor of Arts (Fine Art)
Duration
3 years full time
6 Semesters
3 years full time
VTAC Code
If you are eligible to apply via VTAC, copy and paste the below code into VTAC search.
Plan BP201P16 - 3200339771
Please ensure that you have checked the admissions requirements and apply page before applying.
VTAC Code
If you are eligible to apply via VTAC, copy and paste the below code into VTAC search.
Plan BP201P16 - 3200339773

Please ensure that you have checked the admissions requirements and apply page before applying.
Art is the tool for innovation that can create real-life impact, and is essential to the new creative economy.
Creativity and innovation are now the core tools in a global economy dependent on growth. The booming art and design industry in Victoria alone confirms this – creative industries contribute around seven billion dollars annually to the state's economy.
Progressive, imaginative thinking is in demand across major professional fields, like education, health, and entertainment, and artists are playing important roles in shaping creative endeavour in these areas. RMIT's Fine Art graduates continue to make significant contributions to contemporary art and culture, nationally and internationally as artists, craftspeople, visual thinkers and cultural managers.
Many graduates enter careers as:
professional artists
arts managers, gallery directors or curators
creative entrepreneurs
arts educators or academics
art community and cultural development workers
art technicians.
The arts and creative industries continue to grow. Established institutions in Melbourne, including Federation Square, Australian Centre for Contemporary Art (ACCA) and the National Gallery of Victoria (NGV), and an increasing number of commercial and artist-run spaces, provide exciting opportunities for graduates.
7 reasons why a career in art is for you
With the digital boom, the global push towards innovation, and a growing cultural economy, creativity is capital and design is at the forefront.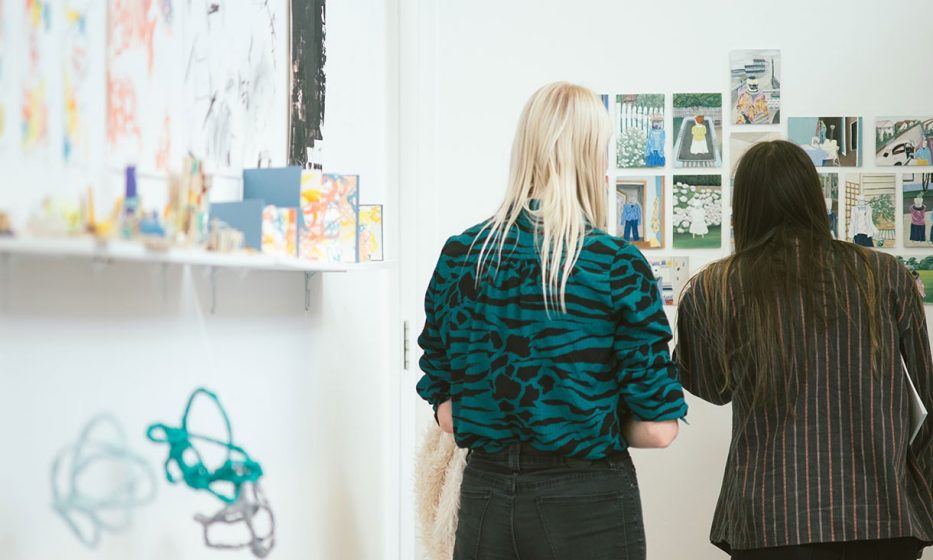 You must have successfully completed an Australian Year 12 (or equivalent qualification).
Prerequisites
Victorian Certificate of Education (VCE) units 3 and 4: a study score of at least 30 in English (EAL) or at least 25 in English other than EAL, or equivalent studies.
Rankings and adjustment factors
Entry to this program is competitive. Applicants are ranked and selected in order of merit based on the assessment of their selection task.
Selection task

Semester 1, 2022
You must complete and submit the Fine Art selection task.
VTAC applicants must register and submit the selection task here.

Early round (Non year 12 only): 30 September 2021
Main round (All applicants): 19 November 2021
All subsequent rounds (if places are available): 11 February 2022

RMIT current or recent students please click the apply button to submit your direct application. The link to submit your selection task will appear on the applicant dashboard after you have submitted your application.

All tasks must be submitted by 25 February 2022. Entry into this program is competitive, and applications are assessed in the order that they are received until this date, if places are still available. For your best chance at admission into this program, you are encouraged to apply as early as possible.
Some applicants will be selected based on their selection task and will not be required to attend a folio presentation. If further information is needed to make a selection decision, you will be invited to a folio presentation.
Folio presentations will be held in October (VTAC Early round) and November/December (VTAC main round).
For all subsequent rounds and direct applicants, folio presentations will be arranged after you have submitted your application.

Advisory letters will be sent in late October (Early round) and late December (Main round).

The selection task requires:
a statement outlining what you aspire to learn from the fine art degree (maximum 100 words).
a description of a recent exhibition or art event you have seen. This can include online exhibitions, live events, screenings or festivals (maximum 100 words).
you to select up to three studio majors in order of preference (see available studio specialisations above within the Details section). Selection into your studio preference is competitive so admissions into your first studio preference is not guaranteed. At the start of the degree, students specialise in the home studio area for which they have been selected.
an explanation of your reasons for your first studio major preference (maximum 100 words).
a folio of work that addresses your studio major preferences. Your folio can be a combination of images, video and sound work and should demonstrate creative potential, technical ability, capacity to think conceptually and awareness of art history and/or contemporary practice. You may provide up to 9 images (maximum file size 2MB), or a URL to your video or sound work on YouTube, Vimeo or SoundCloud (maximum total duration 10 minutes).
one additional image, sound or video work. Discuss the ideas and processes behind that work (maximum 100 words). Image files must be formatted as JPEG (maximum 2MB). Provide a link to video or sound work on YouTube, Vimeo or SoundCloud (maximum 5 minutes).
Selection criteria by applicant type
Please select the highest level of education you have or will be completing in order to find out the selection criteria that applies to you:

View the following videos for some practical application advice:
View the
ATAR profile
and selection rank from students offered a place into this program wholly or partly on the basis of ATAR in the most relevant recent intake period.

*ATAR refers to the lowest selection rank to which an offer was made (including consideration of any adjustments) for current and recent Year 12 applicants.
RMIT is committed to providing transparency to the admissions process. In line with this commitment, we provide you with information that will help in making informed choices about your undergraduate study options. Find out more about RMIT's commitment to admissions transparency.
This course offers pathway options. If you don't meet the entry requirements, a formal pathway might be your way in.
Undertaking a certificate, diploma, advanced diploma or associate degree can help you meet the entry requirements for your preferred course. These qualifications often provide credit, reducing the duration of your bachelor degree and helping you get the degree you want.
Use our Pathways finder or contact Study@RMIT for more information.
Credit and recognition of prior learning
Credit, recognition of prior learning, professional experience and accreditation from a professional body can reduce the duration of your study by acknowledging your earlier, relevant experience. Find out if you might be eligible.
An Honours year is available following the successful completion of the Bachelor of Arts (Fine Art).
Honours is a pathway to postgraduate research. Eligibility is based on your level of academic achievement during the program.
When you successfully complete this program, you may be eligible for entry into an RMIT
honours
or
postgraduate
program.
Looking for answers or more general infomation?
For frequently asked questions or how to find more information regarding applications and enrolments, fees, student support services, university policies and more, please visit our Frequently Asked Questions.
You are now viewing content in a pop-up style. Click escape to return to the page
Close
/