×
C-19 study: Learn online now and on campus later
Find out how we're helping you continue to go to uni during COVID-19. Learn about our
online enabled options.
Bachelor of Youth Work and Youth Studies
Are you interested in helping others? Study this degree to be involved in the welfare and health of the community.
Student type:
Quick facts
Entry score

Duration

Full-time 3 years, Part-time 6 years

Location

Melbourne City

Fees

Next intake

February, July

Entry score

Duration

Full-time 3 years

Location

Melbourne City

Fees

Next intake

February, July

Create a personalised brochure
Domestic,International
Sorry, this program is not available for local students.
Please contact us for more information.
Sorry, this program is not available for international students intending to study on a student visa.
If you hold a different visa type, you may be eligible. Please contact us for more information.
Your role of as a youth worker will be diverse. There will be many challenging and rewarding career opportunities for you. The Bachelor of Youth Work and Youth Studies explores complex social issues affecting at-risk youth, such as homelessness, radicalisation, poverty and mental health. It encourages critical debate and investigation of youth in relation to space, digital landscapes, culture, religion, family and the law.
This degree aims to examine and foster the environments in which all young people can thrive and feel confident, connected and safe.
Daniel Godinez Lambert
"My biggest highlight from studying youth work was the opportunity to complete a student placement within the program. Through the student placement, I was able to put my learning into practice."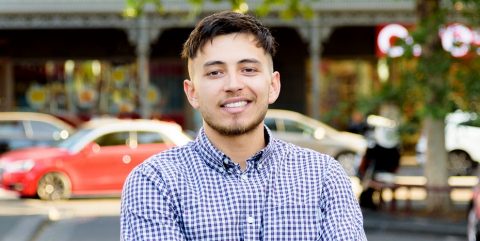 This degree includes fieldwork, work placements, online study environments and real-world projects. You'll take part in interactive coursework through excursions, online workshops and activity-based workshops.
Through individual and group presentations, you will develop skills in presenting ideas to large groups, facilitating discussion and engaging in critical debate. You'll examine case studies, analyses, journal articles, academic texts, and more; deeply exploring the work of experts in your field.
Guest lectures will provide you with relevant and up-to-date insights from industry professionals. A core component of the degree is youth work field education, which provides you with invaluable on-the-job experience.
In the second year of the degree you will undertake industry-engaged project work, and in the third you will undertake 35 days of supervised placement in agencies that work with young people. This placement can be undertaken in urban, rural or remote locations in Australia or overseas.
Classes include lecturers, workshops, tutorials and industry-based presentations alongside assessment tasks. These include essay writing, class presentations, group work and project writing amongst others.
All courses are delivered in English. You will have access to online and digital resources through the myRMIT student portal.
Academic staff enjoy strong connections with the community and youth sectors both locally and globally. RMIT University is committed to providing you with an education that strongly links formal learning with professional or vocational practice.
This degree provides four main streams of learning:
Professional Human Services
Prepares you to work in client-facing industries as a carer, counsellor, advocate and champion of others, in sometimes challenging environments.
Youth Work
Puts you in the professional practice field, where you will gain a clearer understanding of how the youth sector works.
Youth Studies
Develop critical insights into the research on and representations of young people that influence policy making decisions.
Specialisation and electives
Further explore and specialise in a subject of your choice. Areas of study include: criminal justice, international development, Indigenous Studies, community services and languages.
Choose a program structure
Program code: BP322
Title
Location
Duration
Plan code
CRICOS
Bachelor of Youth Work and Youth Studies
City Campus

3 years full-time

6 years part-time

3 years full-time

BP322
098456B
Choose a program structure
Program code: BP322
Bachelor of Youth Work and Youth Studies
Duration
3 years full-time
6 years part-time
3 years full-time
The Health Care and Social Assistance is the largest employing industry in Australia, with job growth set to continue over the next five years. Many social assistance services for young people are delivered by skilled youth workers, whose expertise are in high demand.
Youth workers are employed in areas such as:
local government
health services
youth refuges and housing programs
alcohol and other drug agencies
major welfare services
youth justice settings
school support programs
educational institutions
RMIT is committed to providing transparency to the admissions process. In line with this commitment, we provide you with information that will help in making informed choices about your undergraduate study options. Find out more about RMIT's commitment to admissions transparency.
You must meet the minimum academic entry requirements for this program. Meeting these requirements does not guarantee you entry due to the competitive nature of this program. Overseas qualifications will be assessed for Australian equivalence.
*ATAR refers to the lowest selection rank to which an offer was made (including consideration of any adjustments) for current and recent year 12 applicants.
RMIT's selection criteria, outlined below according to your highest completed level of education, will provide you with a better understanding of the minimum admissions requirements needed for this program.
Even though there are no formal pathways into this course, there are often other ways you can gain entry.
Depending on the course, this may include completing a certificate, diploma, advanced diploma or associate degree or undertaking recognised professional experience.
For more information, use our Pathways finder or contact Study@RMIT to discuss your options.
Credit and recognition of prior learning
Credit, recognition of prior learning, professional experience and accreditation from a professional body can reduce the duration of your study by acknowledging your earlier, relevant experience. Find out if you might be eligible.

Upon successful completion of this program you may be eligible to undertake further studies in other
RMIT University programs including:
Entry is subject to each program's entry requirements.
Students who have previously worked in Youth Work or a related field may be eligible to apply for Recognition of Prior Learning (RPL).
Students who have previously studied at RMIT or another institution, where studies are found to be equivalent, may be eligible to apply for credit.
When you successfully complete this program, you may be eligible for entry into an RMIT
honours
or other
postgraduate
program.
You are now viewing content in a pop-up style. Click escape to return to the page
Close
/