×
C-19 study: Learn online now and on campus later
Find out how we're helping you continue to go to uni during COVID-19. Learn about our
online enabled options.
Bachelor of Environmental Science
Investigate what is impacting the planet and contribute to a greener future.
Student type:
Quick facts
Entry score

Duration

Full-time 3 years, Part-time 6 years

Location

Melbourne City

Fees

Next intake

February, July

Entry score

Duration

Full-time 3 years

Location

Melbourne city

Fees

Next intake

February, July

Create a personalised brochure
Domestic,International
Sorry, this program is not available for local students.
Please contact us for more information.
Sorry, this program is not available for international students intending to study on a student visa.
If you hold a different visa type, you may be eligible. Please contact us for more information.
Your environmental science career
Environmental scientists find employment in consultancies, government agencies, resource management, research and education, mining, and manufacturing.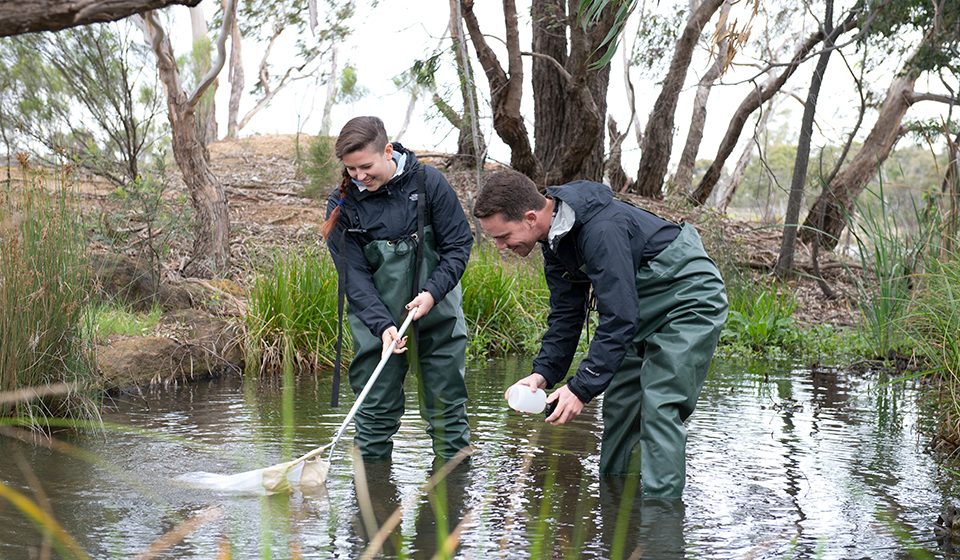 What you will study
This degree covers the evaluation and monitoring of all aspects of the environment, including the atmosphere, the hydrosphere, the biosphere, and the lithosphere.
You will learn about the biogeochemical processes that occur in both natural and degraded environments and specialise with a minor in either environmental chemistry or environmental biology.
You can also choose to minor in geoscience (environmental engineering) or geospatial science, or gain a breadth of knowledge across all the minors, depending on your preferred career pathway.
Over the course of your studies, you will undertake both practical and industry-relevant activities, gaining:
considerable hands-on experience with equipment, both in the laboratory and in the field
frequent field trips during second and third year
working on collaborative projects with industry.
Many of these activities involve working in small groups to foster teamwork and a collaborative approach to research and projects.
Fiji tour project
Science at RMIT is all about hands-on experiences 'in the field'. Hear from Professor Jeff Shimeta as he talks about the importance of Science study tours such as the Self-sufficiency and Sustainability in the Remote Islands project in Fiji.
Your environmental science learning experience will be truly multidimensional. You will have the opportunity to engage in:
Face-to-face lectures: getting to intimately engage with your teaching and research staff at RMIT
Online lectures: where you will learn through innovative teaching technologies at RMIT
Group workshops and tutorials: you will develop problem solving and communication skills by working through problems linked to environmental science
Field activities: you will gain hands-on skills in field sampling, measurement, instrumentation and report writing.
In the final year of your degree, there are three activities focused on preparing you for the environmental industry.
You will work in teams doing riparian, water and benthic sampling, then complete a research project either at RMIT or in conjunction with an external organisation.
In your final year you will participate in teamwork which is a fundamental skill used when working with government and environmental agencies, and consultancies. Some of the participating organisations include:
Environment Protection Authority (EPA)
Department of Environment, Land, Water and Planning (DELWP)
Agriculture Victoria
CSIRO
Water utility companies
Wineries
Boral
Parks Victoria
Municipal councils
Landcare
Waterwatch
West Gippsland Catchment Management Authority
Sustainable Regions program (DOTARS)
Rural Industries Research and Development Corporation (RIRDC)
You will also have the opportunity to undertake a team research project. Designed to replicate a professional consultancy practice, this enables you as a final-year student, to apply your learned knowledge to an environmental issue across a range of different problems and perspectives.
Finally, you will hear from and visit a range of environmental industries, before doing a final project in your industry of choice.
RMIT supports students to undertake global work, exchange and study experiences with over 165 partner universities worldwide. Students have previously studied in:
Denmark (Technical University of Denmark)

Canada (Concordia)

Sweden (Lund University)

Holland (Delft University of Technology)

the USA (Buffalo State University)
Year 1
You will study fundamental chemistry, biology, earth sciences and physical energetics related to the environment. Your studies will also include mathematics, scientific communication and an introduction to geospatial science.
Year 2
In the second year, you will study the processes that occur in the hydrosphere, the biosphere, and the lithosphere, underpinned with frequent field work. You will also start to study courses from your chosen minor. There's also the opportunity to study a second minor or choose a breadth of courses across our minors.
Year 3
In Year 3, you will continue with your chosen minor area of study and further explore processes occurring in the atmosphere. You will be able to engage in the following three unique environmental activities, including:
a week-long field trip that will teach you how to work effectively in teams on a set project, investigating the health of a local river and lake
the Science Project unit, giving you the opportunity to work in a team on a project of your choice, generally with an industry partner
the Professional Environmental Scientist unit, which will prepare you to work in the environment industry.
Choose a program structure
Program code: BP192
Title
Location
Duration
Plan code
CRICOS
Bachelor of Environmental Science
City Campus

3 years full time

3 years full time

BP192P6
047880G
Choose a program structure
Program code: BP192
Bachelor of Environmental Science
Duration
3 years full time
3 years full time
Your work as an environmental scientist may involve laboratory work, field work, report writing, and research.
Typical tasks graduates perform include:
sample collection and analysis
waste management
ongoing monitoring and assessment
environmental impact assessment
site remediation
policy development
cleaner production
environmental education and training
environmental auditing.
A number of graduates are now in senior positions in several industry areas, including:
The Environment Protection Authority (EPA)
Department of Environment, Land, Water and Planning (DELWP)
The Commonwealth Scientific and Industrial Research Organisation (CSIRO)
catchment management authorities
agricultural and research agencies
environmental consultancies
higher education.
RMIT is committed to providing transparency to the admissions process. In line with this commitment, we provide you with information that will help in making informed choices about your undergraduate study options. Find out more about RMIT's commitment to admissions transparency.
You must meet the minimum academic entry requirements for this program. Meeting these requirements does not guarantee you entry due to the competitive nature of this program. Overseas qualifications will be assessed for Australian equivalence.
*ATAR refers to the lowest selection rank to which an offer was made (including consideration of any adjustments) for current and recent year 12 applicants.
RMIT's selection criteria, outlined below according to your highest completed level of education, will provide you with a better understanding of the minimum admissions requirements needed for this program.
This course offers pathway options. If you don't meet the entry requirements, a formal pathway might be your way in.
Undertaking a certificate, diploma, advanced diploma or associate degree can help you meet the entry requirements for your preferred course. These qualifications often provide credit, reducing the duration of your bachelor degree and helping you get the degree you want.
Use our Pathways finder or contact Study@RMIT for more information.
Credit and recognition of prior learning
Credit, recognition of prior learning, professional experience and accreditation from a professional body can reduce the duration of your study by acknowledging your earlier, relevant experience. Find out if you might be eligible.
An honours year is available. You may then wish to undertake research project to gain a MSc or PhD degree.

You are now viewing content in a pop-up style. Click escape to return to the page
Close
/