Bachelor of Computer Science
Design innovative software applications and systems, explore AI, specialise in security, and build skills in this essential and expanding industry.
Student type:
Quick facts
Entry score

Duration

Full-time 3 years, Part-time 6 years

Fees

Next intake

February, July

Duration

Full-time 3 years
Domestic,International
Sorry, this program is not available for local students.
Please contact us for more information.
Sorry, this program is not available for international students intending to study on a student visa.
If you hold a different visa type, you may be eligible. Please contact us for more information.
What you will study
Learn how to develop software apps for social media, artificial intelligence, and more. Graduate with outstanding programming skills and the ability to design, implement, and maintain complex systems.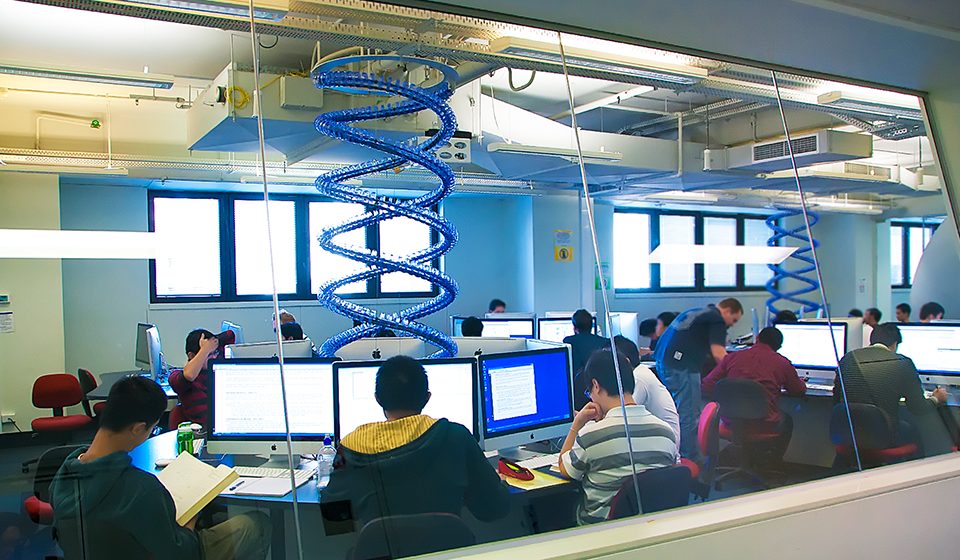 Shape what's next for your career in IT
Information technology is a dynamic industry, with growing demand for key technical skills becoming more prevalent across a variety of sectors. Seize your opportunities for career progression in IT with a qualification from RMIT.
Your career as a computer scientist
Computer scientists work across a wide range of industries or start their own businesses, tech start-ups, or companies.
You can specialise in a range of areas within computer science, including:
artificial intelligence
cloud computing
big data
mobile computing
application development
security
web systems.
At RMIT, you're learning in a world-class university environment. We're ranked in the top 10 universities in Australia for studies in information technology and computer science (2021 QS rankings by subject).
This degree has an active learning approach, with an emphasis on current industry requirements.
Teaching

RMIT offers a variety of learning and teaching approaches including lectures, seminars, workshops, studios, presentations, and syndicate work. In the first year of this degree, you will participate in our signature programming boot camps and studios model, which allow you to develop your programming skills, design and implement small-scale software systems and apply software development practices and standards through project-based work. You'll also participate in hackathons developed with RMIT Activator, that will provide testing grounds for your skills with real-life problems and valuable networking opportunities.
Support and resources
You'll have access to online resources through various student systems, including Canvas, the University's Learning Management System.

Assessment
Ongoing assessment throughout the semester includes challenges, essays, reports, oral presentations, group projects, research projects, and practical assignments.
Work placement
In your final semester, you'll undertake a project that simulates an industry environment. Here, you'll apply your skills in large-scale software application development. Many students tackle real-world problems for their projects with close involvement and supervision by an industry mentor.
The knowledge and skills you will acquire throughout this degree and how they can be applied in your career are described in the learning outcomes.
View the learning outcomes for each stream:
Specialisations and electives

Artificial intelligence
Artificial intelligence (AI) is about designing software that enables computers to effectively undertake complex tasks previously done by humans.
Companies have the potential to both make and save millions of dollars by harnessing the technology of AI as it plays a key role in production, analysis and more. However, there are still many improvements and applications yet to be discovered.
You'll develop strategies to solve present day issues in industry, as well as skills in knowledge representation, automated planning, robots and robotics, intelligent agents, reasoning under uncertainty, bio-inspired optimisation, and machine learning.
Cloud computing
Cloud computing allows computing tasks (running applications, storing data, etc.) to be carried out remotely.
You'll explore solutions and learn design principles for building large, secure and efficient network-based systems across geographically distributed infrastructure.
You'll gain insights into various cloud computing systems, such as Google, Microsoft Azure, Yahoo's Hadoop, Google's MapReduce, Amazon EC2 and S3, and more.
Big data
The proliferation of data produced from digital sources is causing a global information overload. We are struggling to keep up with the demand to efficiently represent, store and manipulate this data.
You'll address these challenges and explore ways to capture, curate, store, search, share, transfer and analyse. There is currently a growing demand for data visualisation and analysis experts in just about every field.
Big data analysis develops insights that can tackle real world challenges, such as healthcare delivery or combating crime.
Application development
Using theory to develop practical coding solutions you'll learn how to design, develop, and evaluate software systems and applications to high-quality benchmarks of functionality and usability.
You'll also become familiar with languages such as Java and C++, with options in Swift, Ruby, PHP and Javascript, as well as the underlying concepts, theories and technologies.
Mobile computing
Mobile technologies are driving advances in communications, finance, information exchange and sharing. We're still discovering the potential for this technology and the demand for skills in this area are growing.
You'll develop skills in the key areas of mobile computing, integrating software and hardware, programming and application development, communications and operating systems, and data security.
Security
Vast amounts of confidential information is collected, processed, and stored on computers and database systems. The security of this data has become vitally important.
You'll develop the skills to enhance security in all sorts of computer systems by concentrating on the mathematical basis of network security, including cryptography, coding for reliable communication, and algebra for information security.
Web systems
Web users increasingly need more sophisticated search technologies for locating, managing, and exchanging all sorts of information, including documents, pictures, and other data.
You'll learn about the design and implementation of search engines, search engine optimisation, structured and unstructured information management, and web services.
With in-depth study of web development and web database applications, e-commerce and enterprise systems, web security, and web document markup languages, you'll develop a practical solutions-based approach.
Electives
You can also study a broad combination of computer science electives of your interests or suits your own career progression.
Choose a program structure
Program code: BP094
Title
Location
Duration
Plan code
CRICOS
Bachelor of Computer Science
City Campus

Three years full time

six years part time

Three years full time

BP094GEN8
061076G
Bachelor of Computer Science
City Campus

Three years full time

six years part time

Three years full time

BP094P21
103230G
Choose a program structure
Program code: BP094
Bachelor of Computer Science
Duration
Three years full time
six years part time
Three years full time
Bachelor of Computer Science
Duration
Three years full time
six years part time
Three years full time
Please note: The BP094GEN8 plan is no longer accepting applications.
VTAC Code
If you are eligible to apply via VTAC, copy and paste the below code into VTAC search.
Plan BP094P21 - 3200332831
Please ensure that you have checked the admissions requirements and apply page before applying.
VTAC Code
If you are eligible to apply via VTAC, copy and paste the below code into VTAC search.
Plan BP094P21 - 3200332833

Please ensure that you have checked the admissions requirements and apply page before applying.
Graduates are in a strong position to gain employment as computing professionals in several fields that may include:
software development
system architecture
business and system analysis
database development and administration
network and system administration
testing and quality assurance
project management
research.
Graduates typically work for commercial organisations, software development companies, government departments, large computer organisations, and in research. Some of these organisations include Deloitte, Apple, the Bureau of Meteorology, Adobe, Telstra and ANZ.
Job Outlook projects that work opportunities for ICT network and support professionals are set to increase by 24.5% by 2024.
This course is accredited at the professional level by the Australian Computer Society (ACS) which accredits information and communication technology-related courses that are offered by Australian universities.
The ACS has reciprocal membership agreements worldwide. ASC Certified Professional status gives you global recognition.
You must have successfully completed an Australian Year 12 (or equivalent qualification).
Prerequisites
Victorian Certificate of Education (VCE) units 3 and 4: a study score of at least 30 in English (EAL) or at least 25 in English other than EAL and units 3 and 4: a study score of at least 25 in one of Maths: Mathematical Methods or Maths: Specialist Mathematics, or equivalent studies.
Rankings and adjustment factors
Entry to this program is competitive. Eligible applicants are ranked and selected in order of merit based on their academic achievement plus any adjustment factors.
Adjustment factors include equity access schemes and/or subject adjustments.
We will consider your entire academic record to determine your eligibility for entry. The highest level of education you have previously completed will usually determine how you are ranked.
Selection criteria by applicant type
Please select the highest level of education you have or will be completing in order to find out the selection criteria that applies to you, in addition to meeting the above entry requirements.
View the
ATAR profile
and selection rank from students offered a place into this program wholly or partly on the basis of ATAR in the most relevant recent intake period.

*ATAR refers to the lowest selection rank to which an offer was made (including consideration of any adjustments) for current and recent Year 12 applicants.
RMIT is committed to providing transparency to the admissions process. In line with this commitment, we provide you with information that will help in making informed choices about your undergraduate study options. Find out more about RMIT's commitment to admissions transparency.
This course offers pathway options. If you don't meet the entry requirements, a formal pathway might be your way in.
Undertaking a certificate, diploma, advanced diploma or associate degree can help you meet the entry requirements for your preferred course. These qualifications often provide credit, reducing the duration of your bachelor degree and helping you get the degree you want.
Use our Pathways finder or contact Study@RMIT for more information.
Please note: the pathway finder references plan BP094GEN8 - this plan has now been discontinued and the new pathway is to BP094P21. All other information is correct.
Credit and recognition of prior learning
Credit, recognition of prior learning, professional experience and accreditation from a professional body can reduce the duration of your study by acknowledging your earlier, relevant experience. Find out if you might be eligible.
Looking for answers or more general infomation?
For frequently asked questions or how to find more information regarding applications and enrolments, fees, student support services, university policies and more, please visit our Frequently Asked Questions.
You are now viewing content in a pop-up style. Click escape to return to the page
Close
/