Bachelor of Business
Develop the tools to succeed in your chosen career path.
Quick facts
Student type:
Student type:
Quick facts
Duration

Full-time 3 years, Part-time 6 years

Fees

Fees

Next intake

Not applicable
Domestic
Sorry, this program is not available for local students.
Please contact us for more information.
Sorry, this program is not available for international students intending to study on a student visa.
If you hold a different visa type, you may be eligible. Please contact us for more information.
The future of business is here
We've adopted a new agile, non-traditional course structure to equip you with greater hands-on learning opportunities and industry engagement.

Early Offer program
At RMIT, your life skills count towards your course. Secure a conditional offer in the Bachelor of Business before your final exams by using your skills and experience beyond the classroom.
Are you ready for a degree that puts you in control with the freedom to choose the path that you are most passionate about?
Studying business in today's ever-changing, globally-connected and technologically-charged world is an exciting prospect.
Are you a disruptor, a potential entrepreneur who sees opportunity at every turn? Perhaps you are a global citizen, connecting with like minds across the world. Or an innovator; ready to transform business with the latest approaches in cyber, blockchain or digital technologies. Then again, maybe you are more focused on creating social impact, or ensuring sustainability goals are set and met in industry. With so many outcomes from your business studies, the only thing you need to find is your path.
Options for majors and minors
We have created an extensive range of career focused areas of study (majors and minors) allowing you to customise your degree and gain an edge.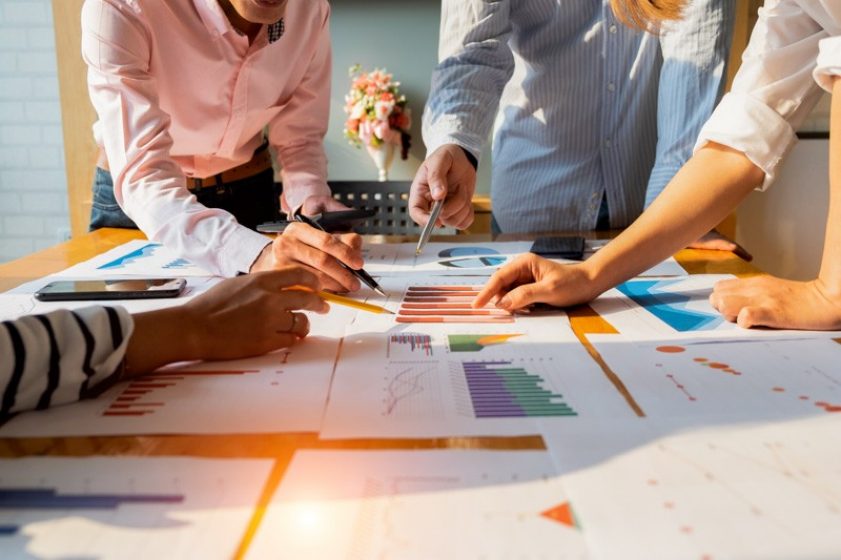 Design your degree, choose your own career path
At RMIT we know that you don't want to be limited by a rigid Business degree or locked in to a path before you really know who you want to be. You want to be able to explore your options and set your own future.
Use our tool to help you understand your study options and plan for your future in the RMIT Bachelor of Business:
Tell us a bit about yourself:
This flexible cross-disciplinary business degree allows you to develop the most important element in all of your future careers: you. With a focus on developing the personal and professional capabilities that industry craves and the world needs, such as a global mindset, a commitment to social impact, digital agility, critical thinking and the ability to cut through the noise and focus on what matters, the Bachelor of Business allows you to do more than respond to the future, it allows you to create your own.
This degree provides unprecedented flexibility. You will start your business education journey with four foundation subjects that will introduce you to the key issues currently facing industry, and supplement these with your choice of disciplinary and cross-disciplinary study. Choose any one (or two!) of 15 majors, and compliment this with a choice of 35 minors. Alternatively, carve your own path by choosing not to do a major at all, and develop breadth across all of our business and cross-College offerings. Agility is key to this degree and to your future in ever-changing business contexts.
You will be guided in your choices through the incorporation of personal and professional development opportunities and self-reflective tasks throughout your study. You will undertake subjects that allow you to apply your learning in real-world contexts, working on industry-based problems and producing impactful and relevant outcomes.
You can expect to learn through tutorials, workshops, practical and theory-based lessons, and online resources. You may undertake presentations, assignments and other forms of assessment, depending on the subjects you select.
In the Bachelor of Business you will engage in learning activities that integrate theoretical learning with practical application in professional contexts. Subjects will involve you in interacting with organisations (industry, government and community) through discipline relevant projects and work placements. Many subjects in this degree are closely integrated with industry and real-world problem solving as an integral part of the learning experience.
The RMIT Bachelor of Business gives you the option to decide how you want to study, and what, to maximise your choices with total flexibility.
In your first year, you will complete four business foundation subjects to give you the foundation that you need to succeed in your chosen Business career path.
After that, the direction you take is in your hands as you choose which major or majors (up to two) you want to undertake, or no majors at all. You can choose one or more minors, or just focus on the individual subjects and electives that interest you most.
In your final year, all students will undertake the compulsory Capstone Experience subject.
Choose a program structure
Program code: BP343
Title
Location
Duration
Plan code
CRICOS
Bachelor of Business
City Campus

3 years full time; 6 years part time

3 years full time

BP343
Bachelor of Business
City Campus

3 years full time; 6 years part time

3 years full time

BP343O
Choose a program structure
Program code: BP343
Duration
3 years full time; 6 years part time
3 years full time
Duration
3 years full time; 6 years part time
3 years full time
VTAC Code
If you are eligible to apply via VTAC, copy and paste the below code into VTAC search.
Please ensure that you have checked the admissions requirements and apply page before applying.
VTAC Code
If you are eligible to apply via VTAC, copy and paste the below code into VTAC search.
Please ensure that you have checked the admissions requirements and apply page before applying.
Graduates from this degree will have the skills and knowledge to lead change in response to the developing nature of the economy and its effect on business activity, decision making and investment.

Depending on the majors, minors and subjects you choose, roles you may be suitable for include:
Accountant, Actuary, Auditor, Economist, Financial Analyst, Financial Planner, Human Resource Professionals, Investment Adviser, Legal Professional, Marketing Professional
Digital Marketing Analyst, Logistics Analyst, Business Behaviourist, Digital Marketing Manager, Social Media Assistant, Transformation Manager, Community Manager (Public Relations), Ethical Sourcing/Procurement Manager
Data Analyst, Pricing Analyst, HR Analytics Manager, Data Scientist, Growth Hacker
Agile Coach, Logistics Analyst, Diversity and Inclusion Officer, Customer Success Specialist, Social Entrepreneur
Digital Marketing Analyst, Social Media Specialist, User Experience (UX) Analyst, Digital Content Curator, Marketing Personalisation Specialist, Employee Experience (EX) Manager, Digital Capability Coordinator
Corporate Strategist, Concept Designer, Corporate Development Analyst, Social Innovation Projects Manager, Enterprise Architect.
As a Bachelor of Business graduate, you will be prepared for jobs that are growing or yet to be defined. New occupations are emerging, often as the result of disruptions and megatrends. Due to high demand for specialised and hybrid skills and knowledge, roles are emerging in areas such as nanotechnology, big data, data analysis, digitalisation, AI and automation, and the green and circular economies.
You must have successfully completed an Australian Year 12 (or equivalent qualification).

Prerequisites
Units 3 and 4: a study score of at least 30 in English (EAL) or at least 25 in English other than EAL.
Guaranteed ATAR
This course has a Guaranteed ATAR (excluding adjustment factors).
This means that if you receive an ATAR equal to or above this and meet the course pre-requisites, we will guarantee you an offer in this course.
If you receive an ATAR below this guarantee, you may still receive an offer, depending on the availability of places in this course and whether you are eligible to receive any adjustment factors.
Please note: For VTAC applicants to receive an offer, this course must be your highest eligible preference.
Rankings and adjustment factors
Entry to this program is competitive. Eligible applicants are ranked and selected in order of merit based on their academic achievement plus any adjustment factors.
Adjustment factors include equity access schemes and/or subject adjustments.
We will consider your entire academic record to determine your eligibility for entry. The highest level of education you have previously completed will usually determine how you are ranked.
Selection criteria by applicant type
Please select the highest level of education you have or will be completing in order to find out the selection criteria that applies to you, in addition to meeting the above entry requirements.
This program is new for Semester 1, 2022, therefore no ATAR profile data is available.
This program is new for Semester 1, 2022, therefore no student profile is available.

*ATAR refers to the lowest selection rank to which an offer was made (including consideration of any adjustments) for current and recent Year 12 applicants.
RMIT is committed to providing transparency to the admissions process. In line with this commitment, we provide you with information that will help in making informed choices about your undergraduate study options. Find out more about RMIT's commitment to admissions transparency.
If you don't meet the entry requirements, a pathway might be your way in.
Undertaking a certificate, diploma, advanced diploma or associate degree can help you meet the entry requirements for your preferred course. These qualifications often provide credit, reducing the duration of your bachelor degree and helping you get the degree you want.
Use our Pathways finder or contact Study@RMIT for more information.
Credit and recognition of prior learning
Credit, recognition of prior learning, professional experience and accreditation from a professional body can reduce the duration of your study by acknowledging your earlier, relevant experience. Find out if you might be eligible.
Looking for answers or more general infomation?
For frequently asked questions or how to find more information regarding applications and enrolments, fees, student support services, university policies and more, please visit our Frequently Asked Questions.
You are now viewing content in a pop-up style. Click escape to return to the page
Close
/